Print and Digital News Senior Lenny Goldman Places in the Top Ten in the Hearst Foundation's Journalism Awards Program
By Nathan Allen
Master's Student
Columbia, Mo. (Dec. 13, 2010) — Missouri School of Journalism student Lenny Goldman placed in the top ten in the college feature writing category in the 51st William Randolph Hearst Foundation's Journalism Awards Program. He will receive a certificate of merit for his seventh-place win.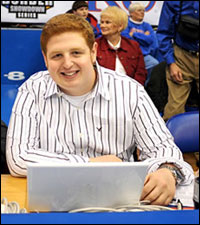 Goldman, a print and digital news senior, received the award for his story "Senior Forward Muscles Past Hearing Loss on Court and Off," a story highlighting the Missouri School for the Deaf basketball team. His story was part of a multimedia package that appeared in the Columbia Missourian, KBIA-FM and KOMU-TV last spring.
"In this project, Lenny's storytelling is built on old-fashioned, solid reporting. He made numerous trips to the Missouri School for the Deaf in Fulton, Mo., and even followed the basketball team on the road. Simply put, the detail that he collected is what makes this story work," said Greg Bowers, associate professor, print and digital news. "Lenny's story, along with complementary stories on KBIA and KOMU, made an exciting package."
Goldman currently covers the University of Missouri football team as a sports reporter for the Missourian. He previously reported on the volleyball team. As a sophomore Goldman was the sports editor for The Maneater.
There were 140 students from 79 universities participating in the competition. The judges for the competition were Peter Bhatia, editor, The Oregonian; Jennifer Sizemore, vice president/editor in chief, MSNBC.com and executive producer, NBC News; and Ward Bushee, editor and executive vice president, The San Francisco Chronicle.
Updated: May 19, 2020
Related Stories
Expand All
Collapse All
---