Two Students, Alumnus Receive Awards at Regional Emmy Presentation
By Nathan Allen
Master's Student
Columbia, Mo. (Nov. 4, 2010) — Two radio-television journalism students and an alumnus won awards at the recent 2010 Mid-America Emmy Gala. Senior Alex Rozier won the student production-news category Emmy. Sophomore Alexandria Belcher was awarded the $1,500 Walter Cronkite Mid-America Scholarship. The Mid-America chapter of the National Academy of Television Arts and Sciences selected the winners.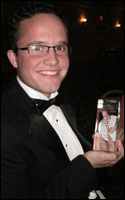 Rozier won the Regional Student Emmy for "The Story of Amanda McDaniel." The story highlights Amanda McDaniel, a high school student who suffered from bone cancer since childhood and cheered for her high school sports teams.
"I feel so incredibly lucky to have been able to share her story," said Rozier. "She lost her battle with cancer just before her high school graduation, and I hope this story will help others remember her as one who touched so many lives."
Rozier said he is very grateful for the award, and it would not have been possible without the preparation and training he has received from Missouri.
"This type of story, feature pieces, is really what I would like to do for many years to come," Rozier said. "Hopefully, this award will get the ball rolling."
KOMU TV-8 News Director Stacey Woelfel said he is impressed with Rozier's work.
"Alex has been a key player for us since the day he first set foot in the newsroom," Woelfel said. "He is equally comfortable in front of and behind the camera, and that makes him very valuable to us. I can see why the judges selected his story for this honor."
Belcher was one of two students selected to receive the $1,500 Walter Cronkite Mid-America Scholarship. Undergraduate students are selected based on reference letters, grades, an essay and creative work.
"Alexandria volunteered her way into three different jobs so far and has done well at all of them. She has a lot of promise and is just the kind of student who should get a scholarship like this," said Woelfel.
Also winning an Emmy for KOMU-TV was videographer Scott Schaefer, BJ '04. Schaefer's ninth Regional Emmy came from the best photographer news-no time limit category. His entry was a compilation of three stories. One, produced with anchor Megan Murphy, was called "Shop with Cops." Fulton police officers raise money to take children shopping for Christmas who would not otherwise get a gift. The other two were from the Sarah's Stories feature. One was about a farmer who has a chicken that lays eggs in his mailbox…in a tree. The other about the Central Missouri Honor Flight, a day trip that takes WWII veterans to see their memorials in Washington, D.C., at no cost to them. The story showed what it was like to be on the trip from the early morning 2 a.m. departure to the homecoming later that day around midnight.
Updated: May 14, 2020
Related Stories
Expand All
Collapse All
---