Broadcasting & Cable Magazine Features the Missouri School of Journalism in Its Sept. 30 Cover Story
The Article Discusses How the TV Industry Can Attract Top News Talent
By Caroline Murray
Columbia, Mo. (Oct. 21, 2013) — The Sept. 30 issue of Broadcasting & Cable features the Missouri School of Journalism in its cover story on attracting top news talent. B&C is the authoritative broadcasting industry news publication.
The cover photo features radio-television journalism senior Alyssa Caruso as she waits for her cue while anchoring at KOMU-TV. The station, which was featured in additional photos in the story, is the only university-owned commercial television station in the U.S. that uses its newsroom as a working lab for students.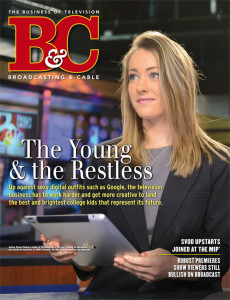 "She's doing nothing less than working at a commercial TV station, airing six newscasts a day, and competing to get stories on the air and beat the competition," said Stacey Woelfel, professor and news director of KOMU. "I think that might be part of the reason why our grads are so much more career focused and have the great record they do of finding jobs after graduation."
It is the real-world experience students like Caruso are gaining that makes the Missouri School of Journalism such a relevant part of the national broadcast news landscape. The benefits go beyond the state-of-the-art facilities, said Kent Collins, chair of the radio-television faculty.
"The advantage is the sense of true journalistic responsibility that KOMU-TV and our faculty editors put on the students," Collins said. "Our students are working to serve a television market and its citizens. This puts a sense of urgency and reality and professionalism into student learning."
Woelfel, who was quoted in the article, said the story does sound like Missouri Journalism students are more focused on specific career choices than some of their peers at other schools.
"Since our students are leaders among their peers, I think I was able to give B&C answers about what elite students are doing and the career choices they are making," Woelfel said.
Caruso is no exception. She said she feels ready for the workforce.
"I can't even begin to explain how well the journalism school has helped me prepare for a career in broadcast television," Caruso said. "The hands-on experience I have had since freshman year has not only reinforced that this is the career path meant for me, but it also has prepared me to feel ready to make the transition from KOMU to my first job. I am very eager to graduate and apply all I have learned at MU to my first job."
Updated: July 21, 2020
Related Stories
Expand All
Collapse All
---