Missouri School of Journalism Class Partners with Nokia to Test Its New 808 PureView Phone for Journalism
Device Has the Potential to Be an All-in-One Reporting Tool
By Chantel O'Neal
Master's Student
Columbia, Mo. (Sept. 5, 2012) — The Missouri School of Journalism's Emerging Technologies in Journalism class is partnering with Nokia to research the journalistic value and impact of its new 808 PureView phone.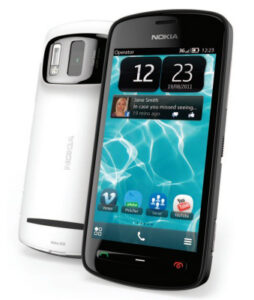 The class, taught by Associate Professor Clyde Bentley, will function as the research team to track and analyze the use of the phone as a reporting tool.
"What we're testing is not the phone," Bentley says. "It's a new way of thinking about this technology."
The Nokia 808 PureView phone includes a 41-megapixel camera with Carl Zeiss optics and is capable of producing full HD videos and concert-quality audio. The camera operates on an imaging-over-sampling principle; in other words, it takes multiple pixels and condenses them into one perfect pixel to make the best possible photograph.
Within the next three weeks, Bentley plans to have the seven phones distributed to students at the Missouri School of Journalism's real-media outlets, including KBIA-FM, KOMU-TV, the Columbia Missourian and the convergence journalism program.
The students will begin by using the phones as a supplemental reporting tool. Eventually, Bentley hopes to have editors assign students stories that will be reported using only the Nokia 808 PureView phones.
The goal of this research project is to test whether the phone is a functional replacement.
"They've got a great piece of technology; now they have to decide who could best use it, " said Bentley.
This is the third project that Bentley has partnered with Nokia on since 2004.
Updated: June 10, 2020
Related Stories
Expand All
Collapse All
---