A Section of the Fundamentals of Multimedia Class Uses All-Mobile Reporting Techniques
Missouri Sophomores Learn to Use iPhones, iPads to Capture and Edit High-Quality Multimedia Pieces
By Rebecca Dell
Columbia, Mo. (Jan. 30, 2014) — This spring, 13 Missouri School of Journalism students will embark on a new kind of class: one that sends them out with just an iPhone or iPad and teaches them to use those mobile tools to produce polished convergence pieces.
The students will be enrolled in a special section of Fundamentals of Multimedia Journalism taught by Judd Slivka, assistant professor of convergence journalism, and Ryan Famuliner, KBIA-FM assistant news director. It is a required course for all sophomores planning on majoring in journalism.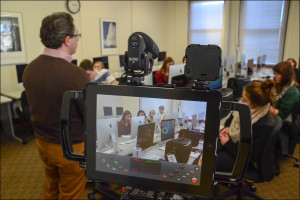 In most sections, Slivka said, students use a digital SLR camera and/or a video camera to capture multimedia. Students then transfer footage to a computer and edit it using Photoshop or Final Cut Pro. In Slivka and Famuliner's section, students will instead check out an iPad and shoot some high-definition video that they can edit and post from the scene of the story.
"This is where the industry is going," Slivka said, citing smaller staffs and more powerful technology as motivators for media members to be able to do more with less expensive and more accessible tools.
Kelsey Cox, one of the first to sign up for the new section, is studying strategic communication and interns for the Kansas City Royals. She embraces the innovation.
"I thought if I was the first one to learn how to do these things it would put me one step above my competition," Cox said. "The world is changing before our eyes and technology is advancing faster than I can keep up with, so I am just doing my part to stay up-to-date with our generation."
Gerald Richardson, a strategic communication classmate of Cox, also looks forward to the way mobile proficiency will equip him for the job field.
"This class will give me a set of skills that not everyone has, which will be enticing for future employers," he said. "It will be an interesting experience, something that I can talk about during an interview, something that makes me memorable."
Steve Rice, who coordinates all sections of Fundamentals of Multimedia Journalism, has been developing the course with other convergence journalism faculty, including Lynda Kraxberger, chair and the School's associate dean for undergraduate studies, and Amy Simons, assistant professor.
This special section has attracted many strategic communication students who are heading into an industry craving their mobile skills.
"The reality is that many of these students will never use the more sophisticated equipment," Rice said.
Students will have the chance to learn that sophisticated equipment in other classes, but in Fundamentals of Multimedia Journalism, they'll practice the mobile version of the Missouri Method, a learn-by-doing philosophy, Rice said.
And students will learn how to be persistent. There's not an app that includes all the features of a computer program like Final Cut Pro or Photoshop, Slivka said, so multimedia journalists are constantly trying new apps and figuring out what works and what doesn't.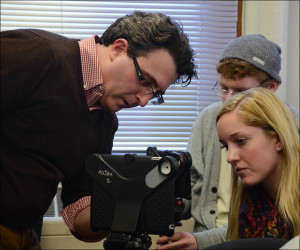 "It's this very rapidly evolving ecosystem," Slivka said. "This is not a mature field yet."
When potential students filled out a survey indicating interest in the class, they answered questions about how they handled problem-solving situations.
"We are really trying to embrace this idea of failing fast," Slivka said.
For example, Slivka took a selfie – "It's all about the selfie," he joked – and tried two different apps before he was able to get the desired effect. It was an effect that would have been done in-camera on a digital SLR, but because iPhone cameras don't allow for the photographer to control depth of field, he needed to edit the photo after he took it.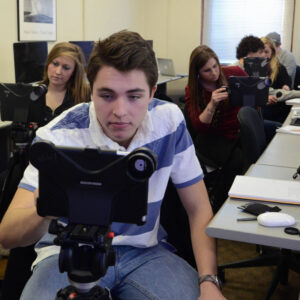 This sort of scenario creates opportunities for students to explore other facets of good journalism.
"One of the things we're going to have to talk about is the ethics of image manipulation," Slivka said.
And as Slivka and Famuliner prepare to guide students through those waters, they have some practical outside help: vendors including iOgrapher and Joby have donated equipment for students to test and use, Slivka says.
Slivka anticipates new sections of the mobile-only approach will be added in future semesters to meet student demand.
Updated: July 21, 2020
Related Stories
Expand All
Collapse All
---