Teams of strategic communication, journalism students win Adobe Creative Jam competition designing mindfulness app prototypes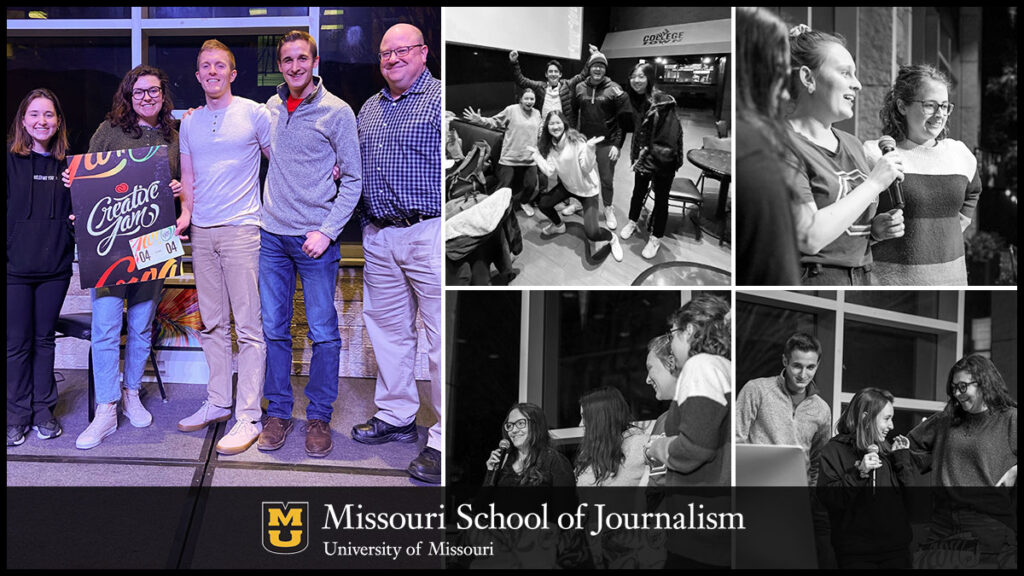 Senior Kaitlyn Weir and sophomore Julia Igel, strategic communication students at the Missouri School of Journalism, took home first place honors in the Adobe Creative Jam competition last month with their mindfulness app prototype "Presence."
2020 was the first year MU had participated in Adobe Creative Jam
By Jennifer Nelson
Columbia, Mo. (March 5, 2020) — Senior Kaitlyn Weir and sophomore Julia Igel, strategic communication students at the Missouri School of Journalism, took home first place honors in the Adobe Creative Jam competition last month with their mindfulness app prototype "Presence." Second and third place teams also included journalism or strategic communication students.
The prototype "What are you thankful for today?" received second place and "Mindful Vibe," came in third place.
During Adobe Creative Jam, professionals or students compete as interdisciplinary teams in a daylong tournament. They test their skills as they try out an Adobe Creative Cloud tool and develop a clickable prototype. This year students used Adobe XD, a user-experience design tool, to develop an app experience based on the theme of mindfulness.
Those who developed "Presence" each received a $250 gift card for their app, which is intended to help users create goals and tracking methods to stay mindful, according to the student team.
"I really appreciated the aspect of being able to track your progress in here," said event judge Laurel Webster, creative director at Hersick+Webster, a brand-marketing studio to the Presence team. "I'm someone that loves notes and loves the ability to track progress and it's something really good for people that are trying to form a new habit or trying to create something new in their life, right? So having that ability to see the progress and see the growth of that is really powerful."
In addition to Weir of Colorado Springs, Colorado, and Igel of Chesterfield, Missouri, the first place team included senior Kevin Schmitz, health sciences and senior Griffin Johnson, geography and Russian.
Weir said she enjoyed how the competition brought together a "melting pot of teammates" and included students of various experiences and skills. It made both women consider other solutions they might not have otherwise thought of when it came to designing the app.
"I think the biggest thing I learned was just everyone has something to input and you need to have open ears and actively listen to what they're trying to input," said Igel.
This was the first year MU participated in the Adobe event, which drew in 39 students, including 20 students from the Missouri School of Journalism. The remainder of the students came from a variety of majors including biology, health science and geography.
"School of Journalism students are often early adopters when it comes to using new software and different techniques to tell stories, whether they are for journalistic purposes or for strategic communication," said Lynda Kraxberger, associate dean for undergraduate studies. "The Adobe Creative Jam provided an extra-curricular outlet to introduce students to a rapid design tool – allowing students to quickly prototype apps or websites. The experience provided students with a creative opportunity to practice using a rapid prototype tool and to gain additional knowledge in a fun and engaging way."
Other winning teams
Senior Dani Craig, strategic communication, senior Katie McGarr, strategic communication, freshman Michelle Gutierrez, journalism and freshman Nicole Gutierrez, journalism, placed second with their app "What are you grateful for today?"
The app provides a question a day that encourages reflection. Users can respond to the question and log an overarching emotion of the day in their daily log. The app stores journal entries and the selected moods on the calendar to allow the user to reflect and notice patterns. They each received $150 for their prize.
Seniors Kyra Chen and Yinting Yu, both majoring in strategic communications, won third place with their app "Mindful Vibe," which aims to provide users with personalized mindful experiences. The team incorporated Spotify playlists and Watch OS into their app so users could get a more customized experience. Users can pick their favorite activities for mindfulness from a variety of featured activities. The team received $50 gift cards. In addition to Yu and Chen, team members included Polina Chelpanova, classical arts and humanities; Timothy Kerr, IT and cyber security and Andrew Marty, math and writing.
Updated: November 11, 2020
Related Stories
Expand All
Collapse All
---