J-School to Host National Summit for Technology In Curriculum
By Jeremy Diener
MU News Bureau
Columbia, Mo. (April 4, 2005) — The University of Missouri-Columbia and Apple Computer will host 140 higher education and industry leaders from the state of Missouri and around the country at an interactive conference. The conference, held April 5 through 7, is designed to make higher education more relevant for today's "digital generation" of students.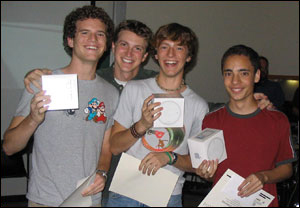 The MU School of Journalism organized the conference as a founding member of the Apple Digital Campus initiative, a partnership that includes Stanford, Duke, Penn State and The Ohio State University.
"We desperately need to re-design higher education to meet the needs and lifestyles of the digital generation," said Mike McKean, associate professor of journalism at MU and chair of the MU Information Technology Committee. "Through our connection with Apple, the School of Journalism is leading the way with cutting-edge changes to an already highly-respected program. This conference will let us share that expertise with other institutions that want to transform their curricula."
The Journalism School will showcase its new laptop iLife Challenge projects for freshman and sophomore students, and will podcast and vodcast each day's proceedings to a worldwide audience. Podcasting allows listeners to download audio of the proceedings automatically to their iPods or other MP3 players. Vodcasting allows computer users to download video coverage of the conference. In addition, Duke University will release the latest information on its groundbreaking Freshman iPod Project.
University of Missouri System President Elson Floyd will address the conference on Wednesday, April 6, to share his vision for transforming higher education with the help of information technology. The forum has generated discussions among campus leaders, including those from the Colleges of Arts & Science, Education and Engineering, about joint projects that can improve the student experience at Mizzou.
For more information, contact Mike McKean at (573) 882-3434, or Andrew White, director of Educational Technologies at MU.
Updated: April 3, 2020
Related Stories
Expand All
Collapse All
---