The 5G experience: Mizzou partners with AT&T to deliver innovative curriculum to students
Journalism students part of four interdisciplinary teams focused on specific industries to find creative solutions using 5G.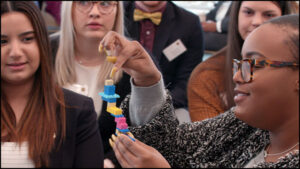 Columbia, Mo. (Feb. 27, 2020) — This spring semester, 19 University of Missouri students are participating in a new immersive 5G course in partnership with AT&T. The course will explore the impact of wireless technology on college campuses and beyond.
The course, "Connectivity and 5G" uses a multidisciplinary approach with students and instructors from a variety of fields of study including business, engineering, journalism and architectural studies. The students are part of four teams focused on specific industries – health care, sports, campus safety and higher education – to find creative solutions using 5G.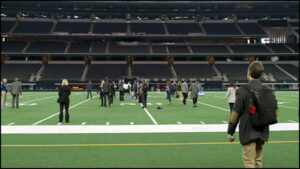 5G, the fifth generation of mobile wireless systems, is a way for computers and phones, to send and receive data. Many cellular carriers began rolling out 5G service to select cities a few years ago and will provide faster download times and upload speeds. Cellular companies are investing in 5G technology across the country.
"The University of Missouri is consistently finding new ways to integrate technology into our teaching and scholarship as we tackle grand challenges and enhance the exceptional, hands-on education our students come here for," MU Chancellor Alexander N. Cartwright said. "This partnership is a tremendous example of that commitment. By aligning our university with a world-class industry leader, we can innovate higher education while discovering more solutions to rural health care, broadband accessibility and so much more."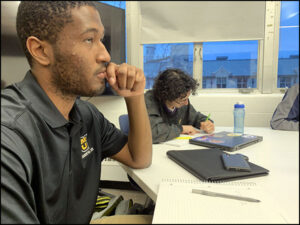 Students and faculty began the course in Dallas for an intensive two-day session learning about the evolution of 5G technology. Their time in Dallas included workshops at AT&T headquarters and a private tour of AT&T Stadium, home of the Dallas Cowboys.
The stadium featured several 5G features aimed at improving the game day experience for fans, including "Pose with the Pros" photo booths where fans can take their picture with computer generated images of the football players.
"We hear about virtual reality and other aspects of 5G technology, but many people can't actually experience them," said Taylar Warren, a senior who is studying journalism. "Seeing some of the small tools, like Pose with the Pros, got me thinking of how I can bring the technology back to Mizzou to improve the student experience."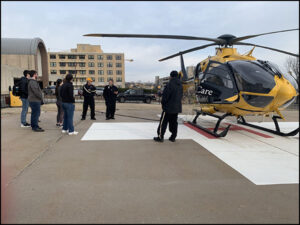 During an idea workshop at AT&T headquarters, Eric Ruth, a senior studying business administration, proposed a game day traffic control tool that could efficiently allocate security and police officers to help manage crowd control. His was just one of dozens of creative solutions students came up with that used 5G technology to improve experiences for people.
Now back in Columbia, the students are tackling several projects including how faster internet speed can improve healthcare. Abigail Labonte, a senior studying architectural studies, is one of the students on the health care team. Her group is focused on using 5G within a hospital setting and recently toured MU's University Hospital to consider ways 5G could improve the hospital setting.
As the students work on their projects throughout the semester, they are putting their creativity and problem-solving skills to the test.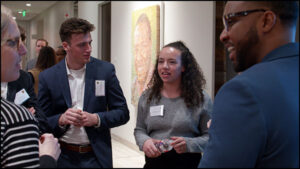 "I think the hardest thing will be that there are so many possibilities with 5G," said Kaitlyn Zahn, a senior studying computer science. "It is such a big field, that we don't really know what question we are answering yet."
MU students participating in "Connectivity and 5G"
Mason Adrales, junior, computer science – Campus Safety
Thomas Auckland, junior, architectural studies – Sports
Emily Butera, senior, computer science – Sports
Breanna Dale, senior, architectural studies – Campus Safety
Cayla Davis, senior, business – Sports
Soloman Davis, senior, journalism – Campus Safety
Matt Gibson, sophomore, business – Health Care
Joseph Hays, junior, computer science – Higher Education
Danielle Hrdina, senior, architectural studies – Higher Education
Brandon Johnston, sophomore, architectural studies – Campus Safety
Abigail Labonte, senior, architectural studies – Health Care
Andrew Moore, junior, journalism – Sports
Matt Montemore, senior, journalism – Health Care
Eric Ruth, senior, business – Campus Safety
Joseph Sahrmann, junior, computer science – Higher Education
Yasmeen Taranissi, senior, business – Higher Education
Taylar Warren, senior, journalism – Higher Education
Alan Wendell, junior, computer science – Health Care
Kaitlyn Zahn, senior, computer science – Sports
Updated: February 24, 2021
Related Stories
Expand All
Collapse All
---