Grad Students Tasked with Solving Associated Press Challenge Win Business-Journalism Competition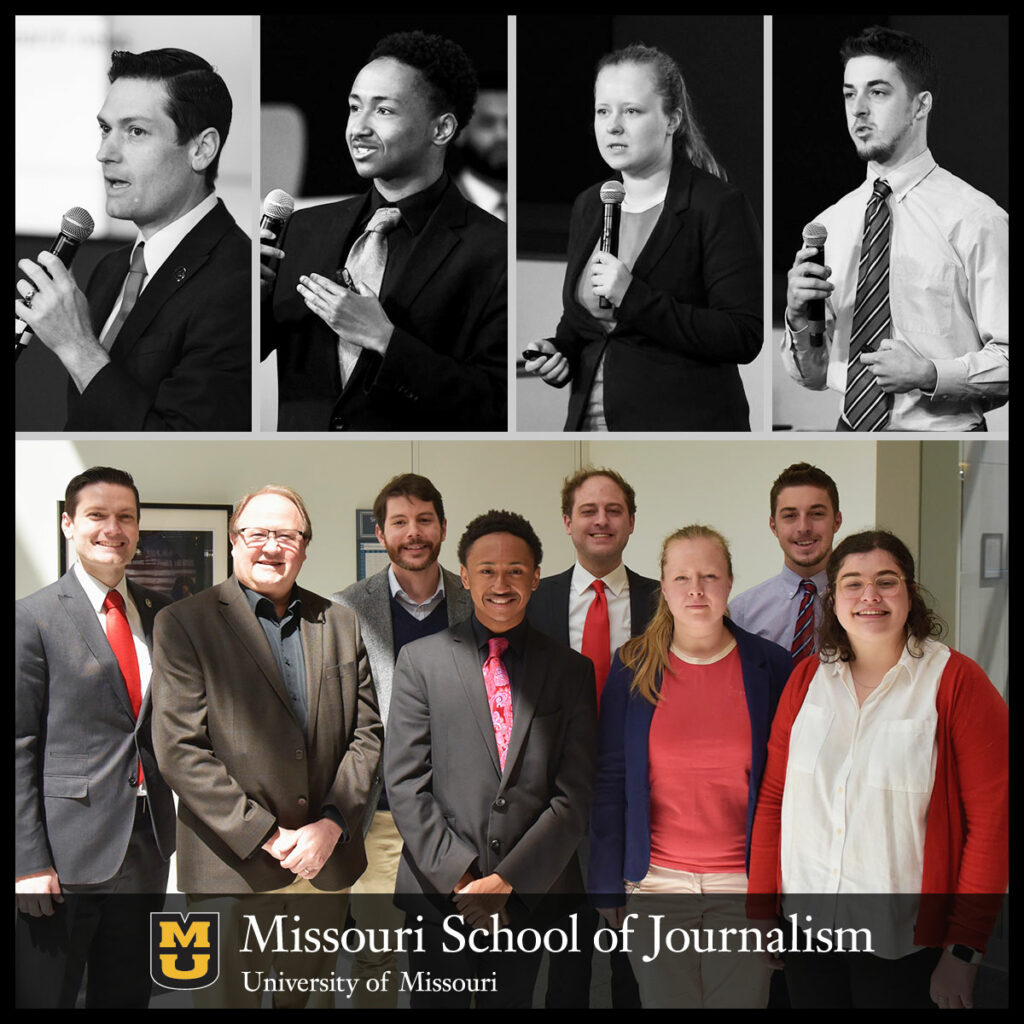 Team AP (left to right): Andre de Castro Deus; Les Borgmeyer, Team AP adviser; Jake Kreinberg, manager of text and multimedia products at Associated Press; Jerome Young; Zachary Mason; Karina Zaiets; Adam Caruso; Abby Ivory-Ganja.
Columbia, Mo. (May 9, 2019) — A University of Missouri team of students tasked with increasing awareness, bringing in more customers and monetizing the health and science vertical at the Associated Press won the 10th annual Entrepreneurship and Media of the Future Symposium competition.
The competition brought together graduate students from the Missouri School of Journalism and Trulaske College of Business to tackle various challenges from industry clients. This year, student teams worked with the Associated Press, The Wall Street Journal, TechCrunch and Reporting on Climate Adaptation.
The students worked on the projects for their Entrepreneurship and Media of the Future class taught by Professor Randall Smith, Donald W. Reynolds Endowed Chair in Business Journalism. Their final ideas were then shared with clients.
"We've already presented the students' research and recommendations to editors and executives as we work to support our members and customers, so their work will live on much longer than the length of the class," said Jake Kreinberg, manager of text and multimedia products at the AP and a 2014 member of the competition.
Team AP consisted of Adam Caruso, business; Andre de Castro Deus, business; Abby Ivory-Ganja, journalism; Zachary Mason, business; Jerome Young, business and Karina Zaiets, journalism.
As the team did its research, members interviewed news, medical and educational professionals about buy-in. Among other things, prospective customers wanted:
interactive content that simplified complex topics;
local and fresh content;
data-driven content as they didn't always have access to a data reporter.
Professionals from outside the news industry were willing to pay more than the news professionals said they could pay. Suggestions to AP included:
boosting marketing efforts;
creating a centralized data team to work at AP's hubs around the country to help local reporters with data content;
targeting professionals outside the journalism industry with these verticals to draw in more revenue.
A team of judges, including Ebony Reed, RJI director of innovation and the Futures Lab, reviewed the projects. Judges looked for how well the solution solves a problem, the sustainability of the proposed solution and competitors.
"The AP team had a strong understanding of competitors, implementation of technology for its recommendations and gave the judges the best sense through their presentation that the idea could work," Reed said. "The other teams performed well, too, and even though they weren't selected, their ideas have value and could also benefit the organizations those student teams served."
Throughout the semester-long project, journalism students learn skills to help them as they prepare to enter the industry. Ivory-Ganja gained a sense of the importance of the business side of a news outlet.
"I don't want to sell ads, but I think there's a lot of work to be done to make sure that things happening in the newsroom are strategic," she said. "We asked a lot of questions like: 'Is this feasible?' 'Can this really be done?' 'Is it realistic to have some people focus on investigations and features as opposed to daily news?' For me, it was mostly trying to understand the constraints of the business side and editorial side and then work within that to create recommendations and solutions."
The team was guided by coach Les Borgmeyer, local sales manager for Fox and former longtime vice president of sales for the Columbia Daily Tribune.
The team was able to understand the need to be flexible and to use their ideas in a manner that fulfilled the needs of the AP," Borgmeyer said. "I congratulate the team for their perseverance, their enthusiasm and passion to take a course assignment and help provide real-life direction to a multinational company."
The other three student teams in the competition were:
Team ROCA (Reporting on Climate Adaptation) was challenged to come up with a revenue model for the Reporting on Climate Adaptation resource, which is an RJI project that was developed by Adam Glenn, executive producer of RCOA, founder and editor of the experimental climate adaptation news project AdaptNY.org and editor of the quarterly journal of the Society of Environmental Journalists. The team: Jingyi Liu, Leonardo Montes Alvarez, Seabrook Omura and Brett Pawlak. Their mentor was Glenn and their coaches were professor Richard Johnson with the College of Business and professor Randy Smith.
Team TechCrunch was tasked with helping the organization boost its user base and make content more useful to them. The team: Ritwik Agrawal, John Beck, Iliana Jones, Nathan Ketchum and Nicole Newman. Their mentor was Taylor Nakagawa, audience developer at TechCrunch and past participant of the competition. Their coach was professor J. Scott Christianson with the College of Business.
Team Wall Street Journal was tasked with helping the WSJ reach Gen-Z and Millennials by figuring how this demographic defines ambition and determine how the Journal can best reach these younger folks. The team: Heng Li, Hafsa Lodhi, Samuel Manas, Annmarie Metzendorf, Char'Nese Turner and James Wilkinson. Their mentor was Francesco Marconi, chief research and development officer at the WSJ and past participant of the competition. Their coach was professor Randy Smith.
Strategic communication graduate student and teaching assistant Rob Jones also worked with all four teams.
The symposium was sponsored by the Center for the Digital Globe (CDiG), whose primary goals include interdisciplinary research, teaching and service to Missouri businesses. CDiG also collaborates on research, teaching and service at the national and international levels.
Updated: November 10, 2020
Related Stories
Expand All
Collapse All
---