Master's Student Wins First Place in Society of American Business Editors and Writers' "Best in Business" National Contest
Columbia, Mo. (March 31, 2008) — Winning a national business writing competition never was one of Jessica Nuñez's goals. In fact, she never really considered herself a business reporter.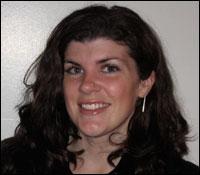 After winning first place in the Society of American Business Editors and Writers' Best in Business contest for her story "Funding Farming," Nuñez said she is "looking forward to learning a lot about something I am relatively new to."
Nuñez didn't know that her Columbia Missourian article had been entered in the contest until she received an e-mail telling her she won first place. The paper has served as the hands-on newspaper laboratory for Missouri Journalism students, who produce the paper's content under faculty supervision.
Judges comments on the SABEW Web site said that Nuñez "used this story as an opportunity to instruct her readers about why the subsidy program exists, to challenge the program's structure and continued relevance, and to give them a glimpse of what it could look like. She took on an ambitious topic and drove hard on the reporting."
Now a master's student with a focus on magazine journalism, Nuñez wrote the article while earning her bachelor's degree in convergence journalism at the School in 2007. The article focused on the Farm Bill debate, which was up for reauthorization in August 2007. The Environmental Working Group, a lobbyist group based in Washington, D.C., released a database that tracked farm subsidies across the country. Nuñez examined the top 10 Boone County subsidy receivers.
"The article turned out to be a mix of naming those people and getting local farmers' thoughts on the subsidy program as it was about to be reissued, as well as a primer on how the subsidy program works and the issues at stake in the debate," she said.
The article was published in the Missourian, a daily city newspaper that serves as a working lab for students. Nuñez said this was the first big business article she has ever written, and she really enjoyed it.
"I wrote the article because I was interested in revealing a piece of government policy that affects all of us because we all eat the food that farmers grow, and we all pay the taxes that fund the subsidy program," she said.
Nuñez said her editor at the Missourian, John Schneller, supported of the idea from the start.
"He let me take as much time as I needed and gave me news ideas when I felt like I was on information overload and didn't know where else to look," she said.
As part of winning the award, Nuñez attended the SABEW conference April 25 to 27 in Washington, D.C. She said the award piqued her interest in business and economic issues.
"I was so surprised when I found out I won. It was completely unexpected," she said. "I feel very honored. This article took some time, and it was difficult, so to be rewarded by gaining recognition from other journalists is really fulfilling."
Updated: April 27, 2020
Related Stories
Expand All
Collapse All
---