Business Journalism Class Visits Wall Street for Sixth Straight Year
Columbia, Mo. (June 12, 2009) — For the sixth consecutive year, Missouri School of Journalism students visited business news media and Wall Street landmarks during a four-day tour of New York City. Marty Steffens, the Society of American Business Editors and Writers (SABEW) chair in business and financial journalism, arranged the fast-paced trip for students in her business and economic reporting class.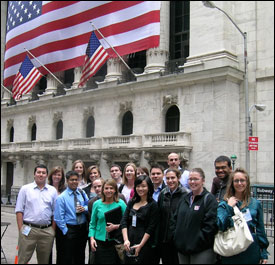 The 18 students visited the New York Stock Exchange, New York Mercantile Exchange, and spent time at media outlets such as Fortune magazine, BusinessWeek, The Wall Street Journal, Reuters, Bloomberg, Institutional Investor, Fox Business, Dow Jones Newswires, The New York Times and CNN Money.
Graduate student Katy Steinmetz wrote about the trip – in particular a tour of the New York Mercantile Exchange – in an article for the Columbia Missourian.
"The history of the exchange is little known and enchanting, and watching traders do business is almost unspeakably exciting," Steinmetz wrote. "But most captivating is how their faces remind you that business isn't just a soulless machine run by CEOs: It's a human endeavor to admire – and perhaps even love a little on occasion – too."
Students also visited with School alumni while on their trip. They had dinner with Charlie Gasparino, MA '89, an on-air editor for CNBC. At Fox Business, alumnae Katherine Buschmann Vasel, BJ '07, and Kathryn Glass, MA '08, shared information with the group. At Fortune, columnist Allan Sloan, and a 1978 Missouri Honor Medal for Distinguished Service in Journalism recipient, Carol Loomis, BJ '51, hosted the students.
At Institutional Investor alumni Matt Jarzemsky and Libby Sallaberry, both BJ '08 and staff reporters in the newsletter division, visited with the group. At Bloomberg, they met Mark Welsh, BJ '08, who participated in last year's tour and now works at Bloomberg TV. Other alumni included Millie Munshi, BJ '05, and Alex Lange, BJ '07, both of whom work on the newswire side of Bloomberg.
The students also attended an evening fundraiser sponsored by SABEW that gave them an opportunity to meet top media personalities in the financial world.
"What a wonderful opportunity of great things for us to see, explore and experience," said undergraduate student Christy Millweard. "I know that this was a once-in-a-lifetime opportunity, and nothing will ever compare."
Updated: May 4, 2020
Related Stories
Expand All
Collapse All
---