Business Journalism Trip to New York Helps Students Network and Prepare for Internships, Careers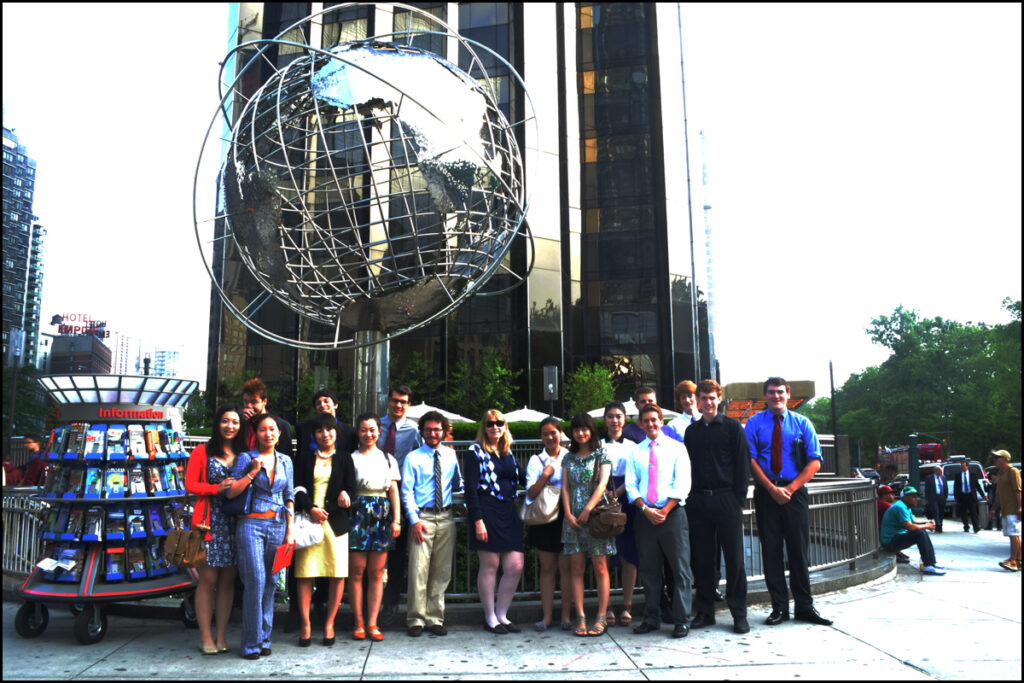 The Schedule Included Attending the Annual Society of American Business Editors and Writers Fall Conference
Columbia, Mo. (Oct. 18, 2012) — Jill Woerner and classmates Alonzo Soto, R.C. Balaban and Karen Miller had no idea that a two-day class trip to Wall Street, the New York Stock Exchange and other New York City-based business journalism outlets in 2003 would set the direction of their careers.
That trip was a trial run to see how immersing students in their future profession would guide their career into business journalism. Marty Steffens, the Society of American Business Editors and Writers Endowed Missouri Chair in Business and Financial Reporting, organized the tour.
Almost 10 years later, Woerner, BJ '04, is a show producer for Fox Business; Soto, BJ '05, an economics correspondent for Reuters America; Balaban BJ '04, media manager of Buckingham Asset Management in St. Louis; and Miller, MA '07, the business editor at the Reading (Pa.) Eagle.
The Wall Street tour is now an official part of Steffens' business and economic reporting class. More than 160 journalism students have participated.
"Having the opportunity to tour Wall Street and learn from real traders, visit national media outlets and meet renowned business journalists was incredibly rewarding," said Jenner Smith, a radio-television journalism senior.
Smith accompanied 14 classmates and five visiting Chinese journalists on the 10th annual tour Sept. 25-29. The group toured Fortune magazine, Dow Jones Newswires, Fox Business, the Wall Street Journal, Bloomberg News and CNNMoney. At almost every stop, recent alumni, some of whom had taken Steffens' tour themselves only two or three years before, greeted them.
Victoria Craig, BJ '12, Kathryn Glass, MA '09, and Jessica Smith, BJ '12, hosted them at Fox Business, with a quick hello by Charlie Gasparino, MA '89.
At Fortune magazine the students ducked in to greet Carol Loomis, BJ '51, who was finishing her book on Warren Buffett.
Matt Jarzemsky, BJ '08, and Chris Dieterich, MA '10, visited with the group at Dow Jones.
At Bloomberg the group was hosted by Millie Munshi, BJ '06, Allison Bennett, BJ '09, Boris Korby, MA '10, and Libby Sallaberry, BJ '08.
Senior Justin Yang is already applying for internships at the news media outlets he visited.
"Seeing the newsrooms of major media corporations like Bloomberg and the Wall Street Journal gave me the motivation needed to place myself in one of those newsrooms after graduation," he said.
The group also attended the two-day SABEW fall conference and met well-regarded journalists such as Nik Deogun, MA '93, senior vice president and editor-in-chief for business news for CNBC. They also visited with other business journalism notables like Andrew Ross Sorkin, Floyd Norris and Diana Henriques of The New York Times and Bethany McLean of Vanity Fair.
"I saw the passion that real-world journalists can have about their job," said senior Antony Lee. "We met several journalists who have been covering business for several years. They were passionate about what they do and truly believed in the importance of their profession."
In addition to visiting news media outlets, students visited the floor of the New York Stock Exchange, where traders gave them a tutorial in trading from Barclays Bank. Students saw how journalists from CNBC and other outlets cover market news live and were on hand to see the 4 p.m. EST closing bell.
While the NYSE is a staple of the visit, the combination of the SABEW conference and the tour was new this year as was the timing, said Steffens. Past trips have been after the semester's end in May. The late September timing helps students network and be better prepared to apply for the many internships in business journalism, most of which are posted in October and November.
"Seeing the place where you might work one day better prepares you to make good decisions about where you want to intern and seek employment," she said.
Steffens plans to continue to grow the fall tour, including adding an extra day of visiting outlets that were part of the longer spring tours. These sites included Business Insider, American Banker magazine, the New Yorker and The New York Times.
"Feedback from this year's class is more, more, more," said Steffens.
Expenses for the trip are offset from a bequest from Eric Schroeder, BJ '20, that is restricted for business journalism use as well as monies from the SABEW chair endowment.
"This trip opened my eyes even further to the importance of business reporting, issues facing this area of journalism today and the number of jobs and opportunities available for younger reporters aspiring to break into this sector of the media industry," said Allison Prang, a junior in print and digital watchdog journalism. "It was by far one of my single best journalism experiences at Mizzou and made me very proud to be a part of the Missouri School of Journalism."
Updated: July 10, 2020
Related Stories
Expand All
Collapse All
---