Upcoming Internship Boot Camp to Prepare Missouri Journalism Students for the Application Process
Alumni and Other Recruiters Are Encouraged to Send Information About Summer 2014 Opportunities
By Katrina Molholm
Columbia, Mo. (Oct. 15, 2013) — The Missouri School of Journalism will offer its first Internship Boot Camp to help undergraduates prepare their application materials and provide other tips about the search for internships. This professional development seminar will be held from 2-7 p.m., Thursday, Nov. 14, at the Reynolds Journalism Institute. Current students can register for the event online.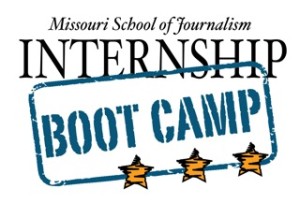 A total of 20 sessions – many of them interactive – will allow students to address ways to identify internship opportunities, promote oneself and perfect interviewing skills. These include tips on how to develop a resume, cover letter and professional online persona. Ideas on how to answer common interview questions and take a pre-employment copywriting test, networking, conversation starters and overcoming obstacles are among the other topics that will be discussed. Participants also can have a professional portrait taken free of charge.
Presenters will include journalism and other University of Missouri faculty as well as those from FleishmanHillard, the St. Louis Post-Dispatch and Missouri Life.
"The Internship Boot Camp will give our students a competitive edge as they look forward to the best possible opportunities for summer 2014," said Lynda Kraxberger, associate dean for undergraduate studies.
Many of the School's undergraduates hope to follow in the steps of graduating seniors who have held impressive internships around the world. From New York City, Chicago and Los Angeles to London, Brussels and Jerusalem – Missouri School of Journalism students have interned at some of the world's top news organizations and advertising/public relations agencies.
Summer interns from the Missouri School of Journalism have covered major league sports teams and national murder trials, investigated corruption and interviewed well known sports figures. They have managed Twitter, Facebook, Pinterest and other social media platforms. Overall, the interns have participated in a variety of writing, editing, designing, producing, researching and related activities. They have left their internships with much to show to their next employers, from a legislative communications toolbox to stories picked up by The Associated Press.
Alumni and other recruiters are encouraged to send information about internships at their companies and organizations to Barbara Willis, the director of the School's career services.
Updated: July 20, 2020
Related Stories
Expand All
Collapse All
---