New Business Models for Journalism Might Include an Innovative Newsroom Café and a Perfect Calendar
Recent Symposium Explores Ways to Support Quality Journalism
Columbia, Mo. (April 5, 2010) — Welcome to KnowPlace. Welcome to your knowable world. Imagine an environment where you can have any digital piece of content that you've ever used in a completely searchable format.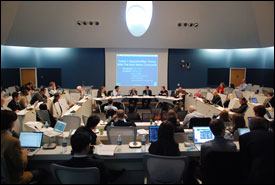 The concept for KnowPlace was one of a half dozen new business ideas presented at a recent symposium held at the Donald W. Reynolds Journalism Institute at the Missouri School of Journalism. Some of the other ideas included an innovative newsroom café, a new concept for youth-oriented news, and a perfect calendar.
"Business, Technology and the Media: Charting a Course through Chaos" brought together industry executives, technology experts, scholarly researchers and other leaders to create new business models to support quality journalism in the future. The invitation list included those from Samsung, the Associated Press, Hearst, Nation Media (Nairobi, Kenya) and several several Silicon Valley start-ups.
Session topics included how consumers will consume news and information in the upcoming decade, disruptive innovations across the globe and funding ideas beyond advertising and subscriptions. Videos of the sessions and a list of participants are available on the Reynolds Journalism Institute's Web site under Events.
Randy Smith, the School's Donald W. Reynolds Endowed Chair in Business Journalism, coordinated the event. An award-winning journalist, Smith is a 30-year veteran of The Kansas City Star and a former president of the Society of American Business Editors and Writers.
Symposium sponsors, in addition to Smith's Chair, were the University of Missouri's Center for a Digital Globe, the Alfred Friendly Press Foundation and the Reynolds Journalism Institute.
Updated: May 7, 2020
Related Stories
Expand All
Collapse All
---