Business Journalism Chair Honored for His Commitment to International Education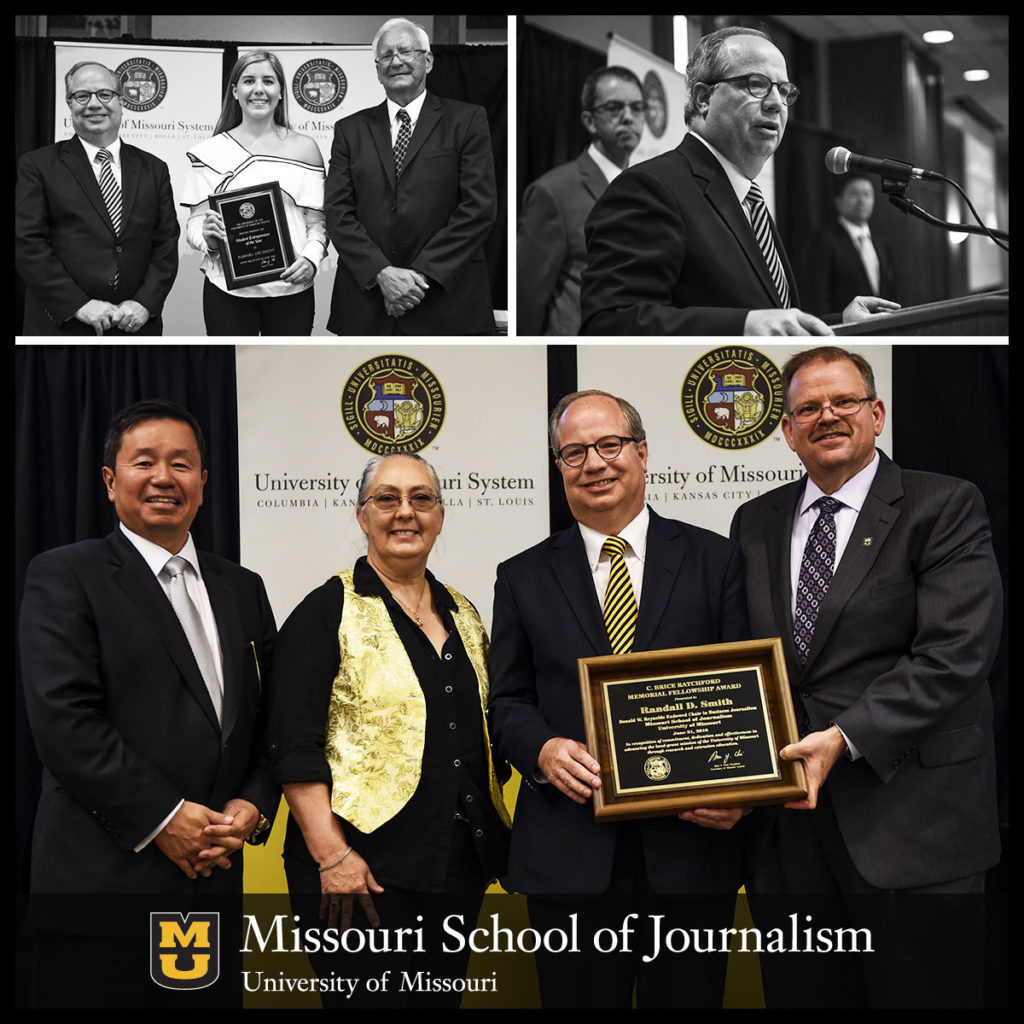 Missouri Journalism alumni and Professor Randall Smith, BJ '74, was recently honored with the 2018 C. Brice Ratchford Memorial Fellowship for his work creating education and training opportunities for students both in the U.S. and abroad.
Randy Smith Cited for His Support of Training and Placement Opportunities for Students Around the World
By Jennifer Nelson
Columbia, Mo. (July 26, 2018) — Journalism professor Randy Smith, BJ '74, was recently honored with the 2018 C. Brice Ratchford Memorial Fellowship Award for his contributions and commitment to international journalism education.
The University of Missouri award, which includes a $4,000 prize, recognizes faculty "who demonstrate commitment, dedication and effectiveness in advancing the land-grant mission through extension, international education and agricultural economics programs." Award recipients "personify the creativity, vision and leadership exhibited by the late Dr. C. Brice Ratchford," who was a president emeritus of the UM System and dean of Cooperative Extension.
"Having the distinct pleasure of working with Dr. Ratchford, I know he would have been proud to be associated with Randy Smith and would have seen him as a fellow traveler," wrote MU Chancellor Emeritus Brady Deaton. "I share a similar pride in my relationship with Randy."
Smith fights for journalism education and training opportunities for students both in the U.S. and abroad, say his supporters.
"A long-time advocate for young international and minority students, Professor Smith has continued to promote and place them into major news organizations such as Bloomberg and CNBC," says supporter Mu Li, BJ '09, a former student and mentee of Smith's. "Such effort of his goes back decades, as he had played a key role in placing more than 250 minority students into Knight Ridder's rotating internship program during a 20-year run. To my knowledge, there's hardly anyone as earnest and effective as Professor Smith in helping his students succeed in multicultural environments."
Among the classes Smith has taught as the Donald W. Reynolds Endowed Chair in Business Journalism have been International News Media Systems, Exploring the Digital Globe, and Global Studies. While at MU, he has overseen about 100 graduate projects, several of which focus on an international topic or challenge. Smith continues to nurture the growth of the Reynolds' fellowship program, which he launched in 2009. The fellowship program places between 15 to 20 MU students annually in newsrooms at major media outlets including The Washington Post and The Kansas City Star.
Smith also founded Missouri Business Alert in 2012 as a way to give students more hands-on business journalism experience during their time at the Missouri School of Journalism. As the Reynolds chair, he has also spent time sharing his business knowledge and expertise teaching at universities in various countries, including Algeria, China, Uganda, Kenya, South Korea and India.
Smith has also served as the president of the nonprofit Alfred Friendly Press Partners for more than a decade. In this role, he helps develop the ongoing vision to provide journalism education and training in countries with underdeveloped media. Fellows receive training at the Missouri School of Journalism before being placed in various newsrooms.
"I can think of no other professor of journalism who has displayed more zeal and commitment to media training and education in countries with fragile democracies as Professor Smith," wrote Sridharan Ramakrishnan, director of the AFPP, in his recommendation letter.
This year, Smith helped start a Food Security Alfred Friendly Fellowship, which raises awareness about food security and helps journalists become experts on this topic. Smith, who brought the Alfred Friendly program to the School of Journalism in 2016, says he'd like to see the program endowed before he retires.
As the co-director of the Center for the Digital Globe, Smith pioneered the Journalism School's study abroad program at the University of Western Cape in Cape Town, South Africa, in 2014.
"The once-in-a-lifetime experience allowed me to immerse myself in the culture of that amazing country and document living history," wrote Tatiana Darie, MA '16, a reporter with Bloomberg News. "The South Africa project was a great challenge that honed my storytelling skills that I now use on a daily basis in a global news organization."
Smith was nominated by his peers at the Missouri School of Journalism. He was named this year's award recipient by the University of Missouri Board of Curators after recommendations from the president.
Fritz Cropp, associate dean for Global Programs, also received the Ratchford award in 2015.
Updated: November 4, 2020
Related Stories
Expand All
Collapse All
---