Missouri School of Journalism student pushes her creative boundaries in Barcelona internship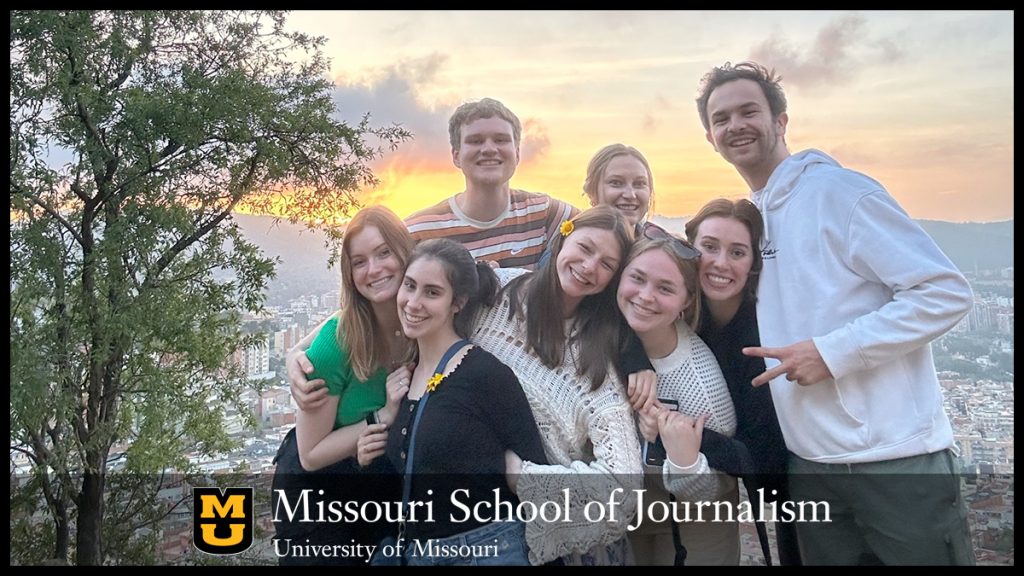 By Drew Dumas
COLUMBIA, Mo. (Oct. 26, 2023) — Weaving through clumps of revelers, Maddie Meyers brandished her trusty yellow-topped microphone as she worked her way down the streets of Sitges. It was Carnival and she was tempted to join in the festivities all around her, but she knew she had a job to accomplish before she could pack in the mic. As she spotted a likely subject, she made her way forward with purpose through the crowds. She was excited to see where this assignment would take her.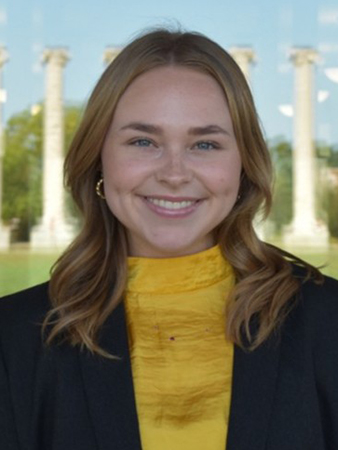 Meyers, a senior at the Missouri School of Journalism studying strategic communications, was one of 10 students who participated in the Barcelona Internship Program in Spring of 2023, the 21st iteration of the program since it moved to Spain from Argentina in 2015. One of the School of Journalism's seven internship locations, the program places journalism and strategic communications students into impactful internships throughout the city of Barcelona in an effort not only to provide them with a meaningful work opportunity, but also an immersive cultural experience.
While on the program, students earn 12 credit hours (nine in the summer semester) via their internship and two additional classes. In the semester before they embark, Program Director Carolina Escudero interviews the students and places them into internships matching their interests and skillset.
Past students have worked at a variety of internship placements, from sports teams and leagues to advertising agencies to non-profits to movie sets. Meyers is the first, however, to intern at El Nacional, a major Catalan and Spanish-language online newspaper in Spain that covers a range of topics from sports to politics to cultural events.
"I knew that they were a big online news company, and Carolina gave me a heads up that this was a big deal, so I was a little nervous," says Meyers. She recalls that anxiety wasn't made any better when she turned up to work in a full suit on the first day and couldn't get through the front door.
"I had to wait until another employee showed up and followed them through. But they were super friendly."
That friendliness permeated the organization. Meyers soon discovered that while El Nacional was indeed a "big deal", they were also an organization full of people ready and willing to cultivate young journalists and help them find their path.
"They were adamant that I learned while I was there and got something out of the experience," said Meyers as she reflected on her time with the company. "It is a Catalan newspaper and I'm learning Spanish and know zero Catalan. But I used the basics and they appreciated that I was learning and trying. It was really cool that they wanted to teach me their language, and they wanted to teach me about their culture and the importance of their language and media in it. It's so important to understand the context of where you're working and the audience they're trying to reach."
I'm one of those people who constantly wants to be doing something new and challenging myself, but I'm so grateful for my time at El Nacional because it's really helped to teach me what I do and don't want to do.

Maddie Meyers
Learning Spanish and picking up Catalan where possible wasn't the only adjustment Meyers was making that Spring. El Nacional wanted not only to immerse her in the culture of Barcelona, but to allow her test herself in areas she had no prior experience.
Some days she was working with the food team and visiting the best tapas restaurants in town, " … which was great, because I'm such a foodie and knowing the places where locals go was so cool."
Other days she was writing tourism stories about the city, "I did a lot of beaches, bars, hotels… a lot on the travel tourism side because they knew that was something I really care about."
And then when El Nacional discovered she had an interest in fashion, they cut her loose in the city. "Thrifting is so big in the US, and fashion is important in Barcelona, so they let me go all over the city to different stores and collect video content working on the piece."
One consistent thread through all of Meyers' work was the company's insistence that Meyers push herself creatively and technically. "They let me do my own writing pieces, but I did enjoy the video work more because I enjoy the editing. They were so flexible and really worked with me to see what I thought people wanted to see."
Of course, as all expats do in a new country, Meyers made a few mistakes along the way. But even a potentially embarrassing situation around Valentine's Day is remembered fondly.
"I was writing about Valentine's Day, which isn't a holiday in Barcelona. But they do have Valentine's things for all the tourists since Barcelona is such a romantic location. I was trying to connect it with Sant Jordi (a festival celebrating the patron saint of Catalonia) and one of my coworkers gently stepped in to explain the cultural importance of the day and that it probably shouldn't be connected with Valentine's. It meant a lot that they were so honest with me."
Too soon, however, the semester came to a close and Meyers had to return to the States. While she remains a strategic communications student, she's found a new interest in video production as she prepares to graduate. And while she cherishes her time in Barcelona, she feels ready for a new adventure.
"I'm one of those people who constantly wants to be doing something new and challenging myself, but I'm so grateful for my time at El Nacional because it's really helped to teach me what I do and don't want to do. I learned that I loved video work, and they helped me learn Adobe Premiere. They were such a great company. But I think it would be hard coming back to the space if the people I got close to weren't still there. And I got that experience, so I'm ready to grow into a new version of me now."
For more information about the Barcelona Internship Program, or any other study abroad program through the school of Journalism, visit MUJournalismAbroad.com or schedule an appointment with an advisor in the Global Programs Office in 280 Gannett Hall.
Updated: October 26, 2023
Related Stories
Expand All
Collapse All
---