Family Weekend Visitors Meet Faculty and Tour Journalism Facilities
By Rebecca Dell
Columbia, Mo. (Oct. 9, 2013) — The Missouri School of Journalism welcomed families of current students during the Sept. 27-29 Family Weekend at the University of Missouri. The visitors had opportunities to tour the professional newsrooms and other facilities as well as interact with faculty and learn more about journalistic innovations.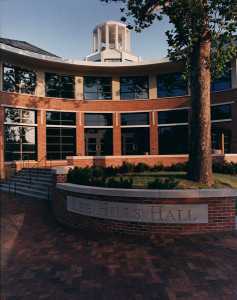 "It is always a delight to meet parents and relatives of our students," said Lynda Kraxberger, the associate dean for undergraduate studies. "Their interest in our program shows a level of commitment and engagement that is one important key to student success."
A slide show highlighting students' impressive summer internships received considerable attention. Among those featured was one about a student who helped to produce a documentary on the Boston Marathon bombings while working in CNN's Investigative/Documentary Unit. Another worked for the Daily News and Analysis in India, writing about topics including India's mental health care system. Missouri journalism students interned in states from New York to California and in countries overseas.
The Family Weekend offerings included the "100 Ages, A Century of Voices" exhibit in the McDougall Center Gallery. This project features short videos interview with a Columbia residents of each age from one to 100.
Families and friends also could observe classes including Broadcast News 3, Principles of Strategic Communication and Vox Magazine staff. The Columbia Missourian budget meeting, always open to the public, was another option for visitors to attend. Current journalism students helped guide families around the facilities and answered questions.
Families were also able to tour the facilities for KBIA-FM, KOMU-TV, Global Journalist, MOJO Ad and Global Programs, the Futures Lab, the Microsoft Application Development Lab, Frank L. Martin Journalism Library. Various student services centers were all open to welcome School of Journalism families.
Updated: July 20, 2020
Related Stories
Expand All
Collapse All
---