Fall Welcome Helps Journalism Students Network, Make Connections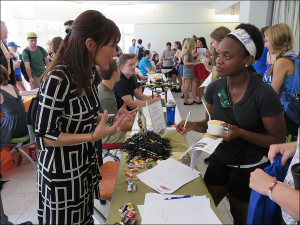 More Than 30 Organizations and Clubs Participated in the 2015 Annual Event
By Ashley Szatala
Columbia, Mo. (Sept. 11, 2015) — About 500 students learned about more than 30 journalism-related organizations, clubs and other activities during Fall Welcome, an annual event sponsored by the Missouri School of Journalism.
Fall Welcome helps students explore numerous options for building experience outside of the classroom, said Lynda Kraxberger, associate dean for undergraduate studies. The University of Missouri has more than 750 recognized organizations campus-wide for students to join.
"Students of all ages have the opportunity to discover new organizations to join and to network with other students and faculty," Kraxberger said.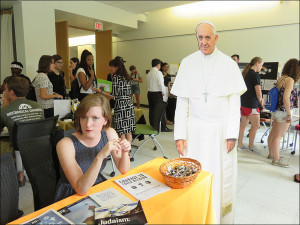 Freshman Myles Poydras found a few clubs he is interesting in joining, including the Magazine Club and the National Association of Black Journalists. Hailing from New Orleans, Poydras plans to focus on magazine writing.
Another freshman, Molly Dove, from Detroit, Michigan, decided to attend a meeting for MUTV based on what she learned about the outlet during Fall Welcome. "The only way to see what all the clubs are is to go to these type of events," she said. Dove, who plans to study radio-television production, has attended meetings for both MUTV and Women in the Media since the Fall Welcome event.
Strategic communication junior Jenna Hinsdale, who was representing the Frank L. Martin Journalism Library at the event, reflected on how she benefited from Fall Welcome when she started her studies at MU. "I didn't know what resources there were as a freshman, and this helped me see how many opportunities there are for students," she said. Hinsdale, from Downers Grove, Illinois, wants to join the National Student Advertising Competition, she said.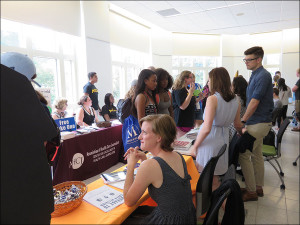 Missouri School of Journalism and MU organizations in attendance included:
3DPrinting/American Institute of Aeronautics and Astronautics
American Society of Mechanical Engineers/Students for the Exploration and Development of Space
Career Center, School of Journalism
Graduate Studies, School of Journalism
Magazine Club
Mizzou National Lesbian and Gay Journalists Association
MizzouRNA (Religion News Association)
Jonathan B. Murray Center for Documentary Journalism
National Student Advertising Competition
Science, Health and Environmental Journalism
Student Society for News Design
Undergraduate Advising, School of Journalism
Women in the Media
Updated: September 10, 2020
Related Stories
Expand All
Collapse All
---