KC-Area Alumni to Welcome School's New Dean at July 23 Reception
The Event Will Be Held at the Indian Hills Country Club; Register by July 17
Columbia, Mo. (July 9, 2015) — Kansas City-area alumni will welcome David Kurpius, the new dean of the Missouri School of Journalism, at a reception from 5:30-7:30 p.m., on Thursday, July 23, at the Indian Hills Country Club, 6847 Tomahawk Road in Mission Hills, Kansas. A brief program will begin at 6:15 p.m.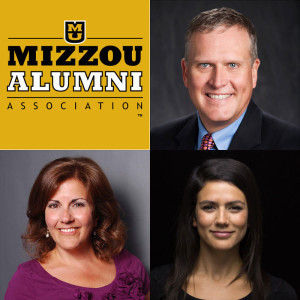 Hearty hors d'oeuvres and a cash bar will be available. Dress is business casual. Registration can be made online through the Mizzou Alumni Association's website and is requested by Friday, July 17.
Kurpius's first day at the Missouri School of Journalism was July 1, having most recently served as a professor and administrator at Louisiana State University for almost 20 years. Most recently, he served as associate vice chancellor for enrollment management, managing 89 staff members and a $5.6 million operating budget. He also oversaw almost $305 million in state and federal financial aid and scholarships.
Kurpius has taught advanced newsgathering classes, public affairs reporting and courses on minorities in journalism. He also served as the director of the Office of Student Media, which is home to LSU's five student-produced media outlets. Kurpius has published studies in more than 20 peer-reviewed journals and books on subjects ranging from civic journalism to local television news. His research focuses on the intersection of journalism education, media and democracy. Kurpius received a bachelor's degree in telecommunication from Indiana University in 1986 and a master's in 1995 and a doctorate in 1997 in mass communication from the University of Wisconsin.
Kansas City-Area Reception

5:30-7:30 p.m.
Thursday, July 23
Indian Hills Country Club
Mission Hills, Kansas
Register by Friday, July 17
Hosting the event are Diane O'Byrne, BJ '79, and Caitlin O'Byrne, BJ '11. At Missouri, Diane focused her journalism studies in broadcasting and also earned a bachelor's degree in political science. Later, she earned her MBA from Rockhurst University. Before founding Competitive Resources, a marketing firm with a focus on sales training, more than 20 years ago, Diane worked the business side of WDAF radio, WDAF-TV and KCFX. She has taught as an adjunct professor at the University of Kansas. Diane served as the alumni representative on the search committee for the School's new dean. She serves on the executive board of the Kansas City chapter of the Mizzou Alumni Association.
Caitlin focused her studies in strategic communication and was a member of MOJO Ad, the premier student-staffed advertising agency that specializes in the youth and young adult (YAYA) market. She began her career at Edelman PR in Chicago as one of the inaugural members of the Enrichment Associates Program. Caitlin then returned to Kansas City, joined Meers Advertising before accepting her current position as an account manager at CBIZ. She is active in the Kansas City community, volunteering her time and talents to LIVing in Vitality, the Junior League of Kansas City, WIN for KC, among others. She is an MAA member and continues involvement with the Griffiths Leadership Society.
Updated: September 10, 2020
Related Stories
Expand All
Collapse All
---