Over 500 Students Learn About 35 Journalism-Related Student Organizations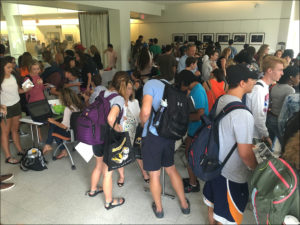 Fall Welcome Helps Freshmen with Network, Build Professional Skills
By Jillian Mullin
Columbia, Mo. (Sept. 9, 2016) — Incoming journalism students crowded into the Reynolds Journalism Institute on Aug. 31 for Fall Welcome, an annual event sponsored by the Missouri School of Journalism.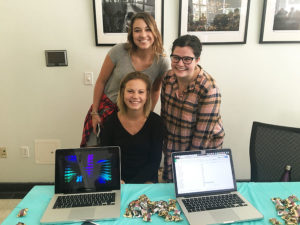 Organizations from every area of the Journalism School and campus media outlets gathered to inform curious students about the abundance of opportunities within their journalistic interests. From the American Advertising Federation and Journalism Student Council, to the National Association of Black Journalists and MUTV, the event illustrated that there are organizations for everyone.
Upper-class journalism students and faculty advisers involved in participating organizations facilitated the event, which attracted more than 500 students. Junior Rachel Radecki, who represented the Online News Association, remembered how important the event was for her two years ago when she was standing on the other side of the information table.
"The event helped me when I was a freshman because I don't think I would know about all of these opportunities if they weren't together in one place," Radecki said. "It is really effective."
Freshman Ruby Redekopp said she benefited from the event as well.
"I'm from out of state and plan on staying in Columbia over the summer, and I found an organization that will allow me to work with high school journalism students while I'm staying here," Redekopp said. "It's exciting to learn about all the opportunities the Journalism School has to offer.
Senior Nicole Caldwell, a representative of AAF, believes her organization is a good way for students to get a better idea of what they might want to do within the advertising industry.
"We do agency trips and establish personal connections with professionals through face-to-face question-and-answer sessions," Caldwell said. "But this event is a good way for freshmen to get an idea of all the things they can get involved in that they might not otherwise know about. There's something for everyone."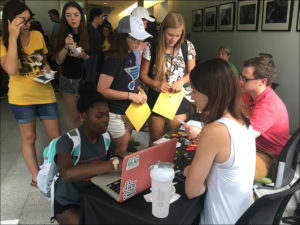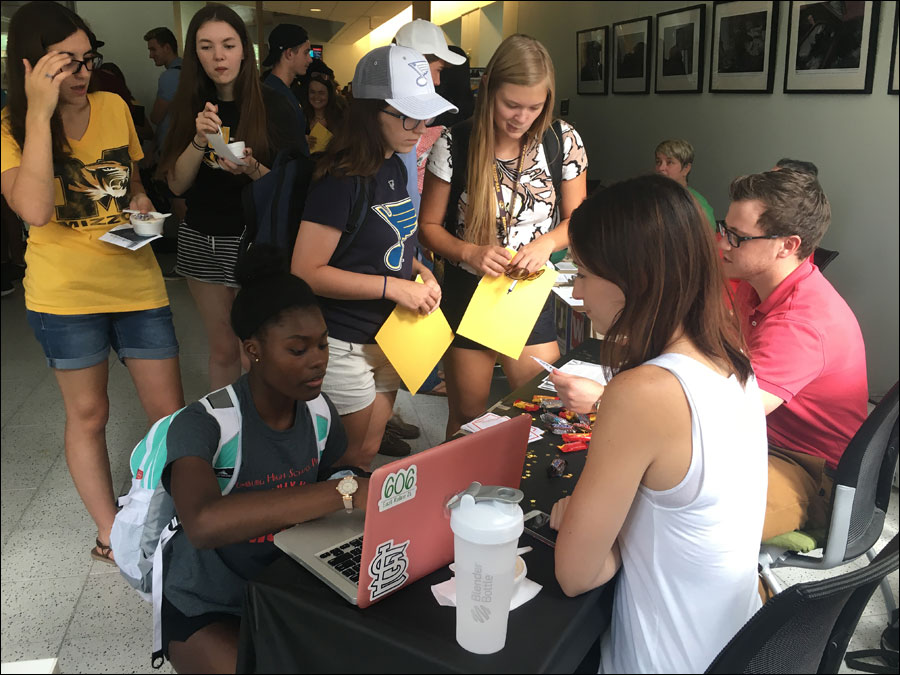 The following 35 organizations were represented at the event:
Arts Journalism Association
Data Journalism
Jonathan B. Murray Center for Documentary Journalism
Journalism Ambassador Program
Journalism Student Council
Journalism Student Services
Kappa Alpha Mu
Missouri Drone Journalism
Missouri School of Journalism
Missouri School of Journalism Graduate Studies
Missouri Urban Journalism Workshop
Mizzou Magazine Club
Mizzou Women in Media
MU Journalism Abroad
National Student Advertising Competition Mizzou
Science, Health & Environmental Journalism
Updated: December 1, 2020
Related Stories
Expand All
Collapse All
---