Missouri Students Tour Top European Media Outlets
By Lindsey Carpenter
Columbia, Mo. (Feb. 14, 2006) — Thirteen students from the Missouri School of Journalism spent the first two weeks in January touring some of the finest European capitals, museums and media outlets in Paris, France; Brussels, Belgium; Madrid, Spain; and Frankfurt/Heidelberg, Germany.
This was the third year the School has sponsored the European Study Tour. The trip is organized each year by Brian S. Brooks, associate dean for undergraduate studies and administration.
"We want as many of our students as possible to have an international experience," Brooks said. "Many can't afford to spend a semester studying abroad, so a trip like this at least gives them exposure to other countries and their media operations."
Each city gave the students a taste of European media. In Madrid the students toured La Gaceta de los Negocios and El Mundo, one of Spain's largest daily newspapers. In Paris, the students realized the extent of the School's extensive network of alumni when they spoke with International Herald Tribune publisher Michael Golden, MA '78. Other media stops in Paris included Le Figaro, a French newspaper; France Television, one of the top networks in France, and Paris Match, one of the top magazines in Europe.
"I really enjoyed our visit to Paris Match, largely because of my perspective as a photojournalist," said Abby Pheiffer, a master's student on the trip.
"Olivier Royant, the senior editor, really made a point to talk about the photographs they use and how photographs drive a lot of the choices they make and what articles they run. It was really refreshing to see an organization rely on quality photographs because editors are usually more worried about the text; photographs are usually secondary."
In Brussels, students visited with another Missouri Journalism alumnus, Ken Gepfert, BJ '66, at the Wall Street Journal Europe.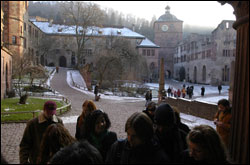 At the last stop in Frankfurt the students got the opportunity to tour Germany's most prestigious newspaper, Frankfurter Allgemeine, and visit with Kevin Dougherty, BJ '83, a reporter for Stars and Stripes, the U.S. military newspaper based in Griesheim. The group's final visit was with Brian Veseling, a magazine editor at ifra, the world's largest newspaper industry trade association. Ifra received a Missouri Honor Medal in 2003.
"The visits that I took the most away from were to the International Herald Tribune, the Wall Street Journal of Europe and Stars and Stripes," said Chris McDougall, a sophomore on the trip. "All three were media outlets based in the heart of Europe yet still very American newspapers in terms of style. It showed that you don't have to be completely European to work in Europe."
According to Carrie Lutsch, the School's study abroad adviser, many students like the trip because it is shorter.
"Students often are not able to spend an entire semester abroad, so this trip is perfect because it is offered during winter break and will not interfere with any semester activities."
This was just the case for McDougall. "I did the Europe Tour because I have wanted to get back to Europe for a long time, but I wasn't sure if I wanted to spend a whole semester there."
The trip packs a lot into two weeks. In addition to the media visits, students were able to take in the sights and sounds of some of the most beautiful cities in Europe. The tour included trips to the Prado in Madrid, the Louvre Museum, the Palace of Versailles and the Eiffel Tower in Paris, the Modern Art Museum in Brussels, the Gutenberg Museum in Mainz and the famous castle in Heidelberg, all of which helped round out the European experience.
Food also contributed to the experience, and Abby Pheiffer recalled one meal in particular.
"A few of us were at a restaurant in Spain and ordered seafood paella. When they brought us the dish there was a small steamed crawfish on top. I had been to Europe before, but some of the others hadn't, and they were really freaked out that the crawfish still had eyes. They did not like that their food was staring at them. Although they were willing to try new things, they we were a little surprised to say the least. In the end everyone ended up trying it and really liked it. Our willingness to experiment paid off."
"We met so many people with different experiences and expertise in various fields of journalism, it really gave us a broader idea of the field than we could ever learn in the classroom," said McDougall. "This trip was unbelievable, and I would recommend it to anybody who is at all interested in world travel. The people you travel with and the people you meet are incredible, and you get to experience so much for the price. The only problem is coming back to Columbia."
The Europe Tour is just one of the many international experiences offered by the School and the University of Missouri. From short trips such as this one to semester-long opportunities in London, Australia and Hong Kong, the School of Journalism is committed to providing an increasing number of options for students who wish to study abroad.
---
Lindsey Carpenter, of Colleyville, Texas, is a senior broadcast major at the Missouri School of Journalism. She is a sports reporter for KOMU, and has previously interned at MTV in New York and FOX Sports Southwest in Dallas. Carpenter plans to pursue a career in sports and entertainment marketing.
Abigail Pheiffer, of Annapolis, Md., is a first-year master's student at the Missouri School of Journalism. She is studying photojournalism and has worked as a staff photojournalist for Times Community Newspapers in northern Virginia. Pheiffer will be an intern at washingtonpost.com this summer and plans to pursue a career in newspaper and magazine photojournalism.
Updated: April 8, 2020
Related Stories
Expand All
Collapse All
---