Missouri School of Journalism Launches Brussels Program with Inaugural Class of Seven
Columbia, Mo. (Nov. 27, 2007) — In the 50 years since its formal inception, the European Union, which comprises 27 member nations, has risen to a position of tremendous international influence. Now, the Missouri School of Journalism will send students to work as journalists in Brussels, Belgium, headquarters of the EU, through a new study abroad program.
The Brussels Program is modeled after the Washington Program, the School's flagship internship experience that began sending student journalists to work in the U.S. capital in 1968. Beginning in January, the inaugural class of seven students will spend four days a week in Brussels covering international issues for media organizations and one day a week attending a seminar class.
Gareth Harding, a Brussels-based freelance journalist with more than a decade of experience writing about the EU and European politics, is serving as director of the program. He has written for European Voice, Time, United Press International, The Washington Times and The Wall Street Journal, among other outlets. Harding has been a tutor at the European Journalism Centre for eight years and is currently the editor of Europe's first online news magazine, This Europe.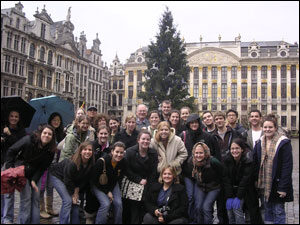 A resident of Brussels, Harding was at MU this past month to promote the program.
"We need more American journalists in Brussels," he said. "As European Union powers increase, the number of American journalists in Brussels is decreasing."
Harding will be teaching the graduate-level seminar course each Friday. He designed it to include sessions on EU/U.S. relations, immigration, NATO, The Hague, religion in Europe, climate change and many others. Students also will be required to take French, a language that will help them become more effective journalists in Europe.
In addition to international reporting assignments, students will experience and report on European life and culture.
"It's a logical fit for us," said Fritz Cropp, associate professor and director of international programs for the School. "Generally, Americans don't know a lot about the EU, particularly its economic power. There's a lot of news emanating from there. (Brussels) is an international city now."
The European Union Center at Mizzou cooperated with the School of Journalism in developing the program.
"The Brussels bureau not only meets our strategic mission of stimulating transatlantic study, it will stimulate graduate student interest in our European Studies certificate program," said Byron Scott, EU Center director and a professor emeritus of journalism.
The program will be offered every fall and winter semester. The cost for the program is $3,750, which includes housing accommodations, internship placement and on-site professor assistance. Students will still enroll at MU for 12 credit hours.
Graduate student Uthayla Abdullah will be among the first group to study in Brussels. She said the program will allow her to achieve a professional goal of working in an international context, while also satisfying the academic need to work on her thesis.
"I can get the best of both worlds," said Abdullah, a first-generation American born of Sudanese parents. "I want to do (my thesis) on the framing of immigrants, a cross-cultural analysis between the U.S. and a European country."
"Hopefully, the experience will help me find a job," she added. "Employment is always a good thing."
For more information on the Brussels program or to apply, visit the School's Study Abroad office.
Updated: October 9, 2020
Related Stories
Expand All
Collapse All
---