Alumna Who Led Panama Papers Project Wins International Award
Marina Walker Guevara, MA '05, Will Moderate a Panel on Investigative Reporting
Columbia, Mo. (Aug. 30, 2016) — The Alfred Friendly Foundation will present Marina Walker Guevara, MA '05, deputy director of the International Consortium of Investigative Journalists, with the Susan Talalay Award for Outstanding Journalism on Saturday, Sept. 10, in Washington, D.C. The Alfred Friendly Press Partners is headquartered at the Missouri School of Journalism.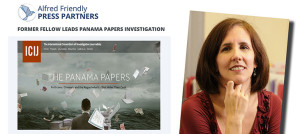 During the event from 4 p.m. to 5:30 p.m. at the National Press Club, Walker will moderate a panel discussion on Investigative Reporting Without Borders featuring the Class of 2016 Alfred Friendly and Daniel Pearl Fellows.
Walker, a 2002 graduate of the Alfred Friendly fellowship program, co-manages the Panama Papers, the largest collaborative investigative project in journalism history. Considering the WikiLeaks activity, the Edward Snowden leak and now the Panama Papers leak, Walker believes this is a "golden era" for investigative reporting, in which journalists with data skills can work together and use advanced technology to make sense of huge amounts of data that would not have been possible in the past.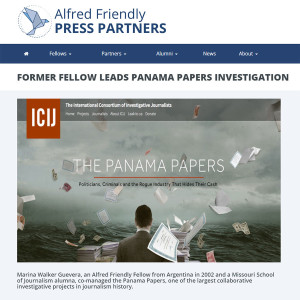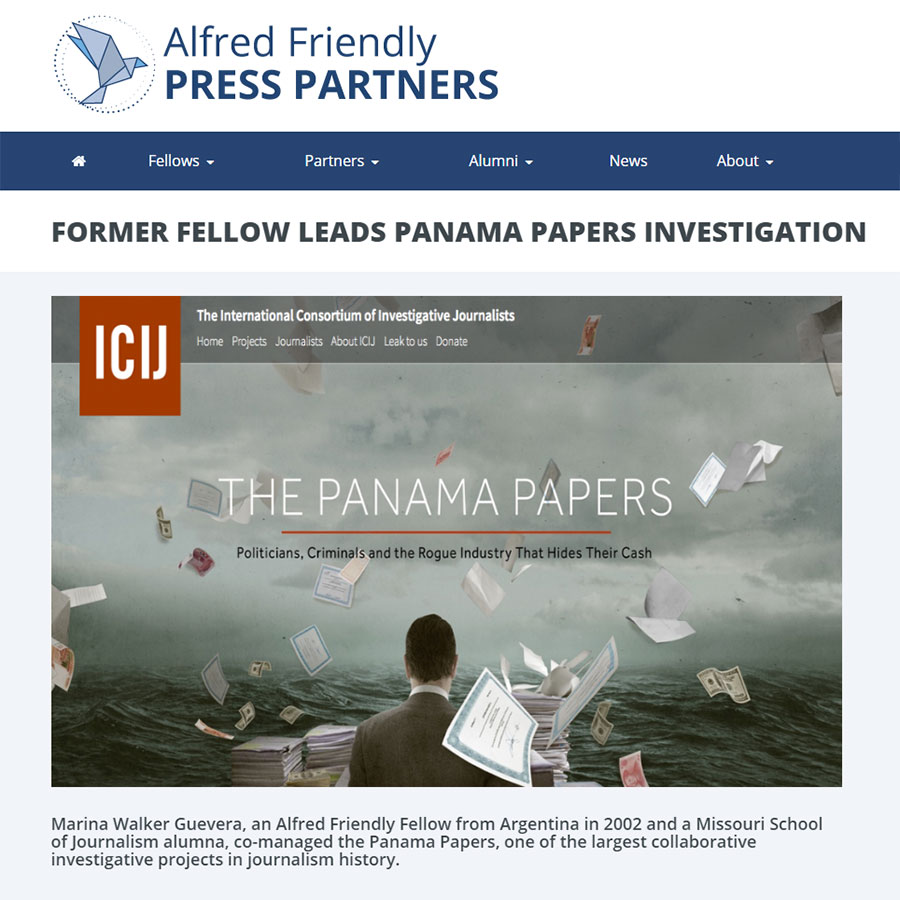 The Class of 2016 Fellows, who are from Cuba, Kenya, Pakistan, Turkey, South Africa, and Ukraine, have spent the past five months working in American newsrooms and have gone through training at the University of Missouri School of Journalism.
The Fellows will talk about the challenges reporters face in their countries as they navigate the "red lines" set by governments, military leaders, militants and powerful business interests. They will also talk with Walker about how using neutral data and collaboration networks can lead to effective investigative reports.
Walker came to the School as the first Tina Hills Fellow for Latin American Journalists in 2003. Hills is the former publisher of the Puerto Rican newspaper, El Mundo. Mrs. Hills is the widow of Lee Hills, a former chief executive officer of Knight-Ridder newspapers. Both were presidents of the Inter-American Press Association. Lee Hills Hall is named for Mr. Hills and is home to the Columbia Missourian.
Susan Talalay, an independent consultant with 30 years of experience in the nonprofit sector focusing on international journalism, is a former director of Alfred Friendly Press Partners and board member of the Alfred Friendly Foundation.
Updated: September 30, 2020
Related Stories
Expand All
Collapse All
---