Miró-Quesada Awarded Second Tina Hills Fellowship
Columbia, Mo. (May 19, 2005) — María Inés Miró-Quesada of Lima, Perú, has been awarded the second Tina Hills fellowship by the Missouri School of Journalism.
Miró-Quesada will work with journalism students as Spanish language managing editor of Adelante!, the J-School's bilingual monthly community newspaper. The fellowship will fund her tuition in the graduate school and provide a stipend of $5,000 per year.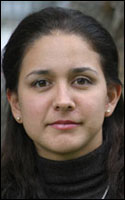 She succeeds Marina Walker Guevara, the first recipient of the fellowship. Walker has completed her master's degree and will intern as a researcher for the Center for Public Integrity in Washington, D.C., this summer.
Miró-Quesada graduated summa cum laude from the Pontificia Universidad Católica del Perú in 2001 with a bachelor's degree in journalism. She is an editor and information analyst with the National Office of Electoral Processes. The Web site she oversees was named the Best Peruvian Web Site for 2004 for transparency in information and was first finalist in the public organizations category of the same competition. She also assists in the editing of the organization's monthly bulletin on election topics, conducts training and speaks around the country about the organization, elections and electronic voting.
A translator for Adelante! since 2003, Miró-Quesada has worked as a writer and editor for university publications and founded her alma mater's first magazine, Impresion. She plans to specialize in media management. "I would like to have a magazine of my own someday to help prove that journalism can make a difference, especially in countries like mine where injustice and abuse are our daily bread," Miró-Quesada said.
Katherine Reed, editor of Adelante!, said Miró-Quesada would be an excellent addition to the publication's staff. "Her experience with an organization committed to her country's democratic process will undoubtedly inspire the student staff of Adelante! and our readers," Reed said. "She has been one of our best translators for quite some time, so it's a great fit. The J-School is fortunate to get her."
Miró-Quesada will begin the graduate program and take over as Adelante's Spanish side editor in August.
Tina Hills is the former publisher of the Puerto Rican newspaper, El Mundo, and president of its parent company. Mrs. Hills is the widow of Lee Hills, a former chief executive officer of Knight-Ridder newspapers. Both were presidents of the Inter-American Press Association.
The Tina Hills Fellowship is part of a long-term program to expand relations between the Missouri School of Journalism and the news business in Latin America. Missouri's journalism program has a strong international presence. The school has formal collaborative relationships with more than a dozen educational programs in nine countries and informal relationships with more than a dozen.
Updated: April 7, 2020
Related Stories
Expand All
Collapse All
---