Global Journalist Interview Garners Spanish Student Vanity Fair Award
Inés Gaviria Sastre's Entry Was Chosen from More Than 300 Applicants
Columbia, Mo. (April 10, 2015) — An interview with a French-Columbian politician who was held hostage by Colombia's FARC rebels for Global Journalist garnered a Spanish exchange student at the Missouri School of Journalism a top award in Spain.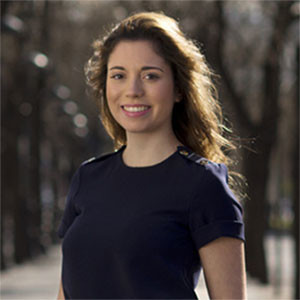 Inés Gaviria Sastre, a student at the University of Navarra in Pamplona who studied at the Missouri School of Journalism in 2014, has won the 2015 Young Journalist award from Vanity Fair's Spain edition. Gaviria's winning submission was an excerpt of an interview with former hostage Ingrid Betancourt for a profile on the Global Journalist website. Her entry was chosen from more than 300 applicants.
Portions of Gaviria's interview were published in the magazine and digital versions of Vanity Fair's Spain edition in February. As part of the award, Gaviria was also awarded 3,000 euros, offered a summer internship with the magazine and flown to Dublin, Ireland, for dinner with Booker Prize-winning author John Banville.
Gaviria says her time at the Missouri School of Journalism has had a decisive impact on her career.
"Not only did I become familiar with American journalistic standards and ways of working, but I also grew a lot both as a professional and a person," she says. "I was able to meet great professors and students from very different parts of the world, which opened my mind. In Global Journalist, I was able to develop that curiosity by investigating international affairs."
Global Journalist is a website and weekly radio show that covers international press freedom issues and global affairs from the Missouri School of Journalism. The radio show airs on KBIA, the NPR-affiliate in Columbia, Missouri, and is available on iTunes and in video form via YouTube. Professor Amy McCombs is the executive managing editor; Jason McLure, managing editor.
Updated: August 4, 2020
Related Stories
Expand All
Collapse All
---