Female Journalists Offer Global Perspective on Profession
By Katie Moritz
Columbia Missourian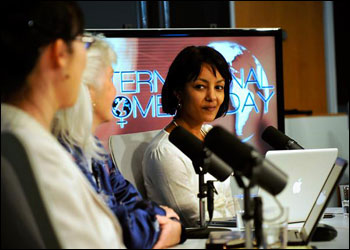 Columbia, Mo. (March 11, 2011) — When Lee Wilkins began reporting at the Columbia Missourian in 1969, she didn't realize her request to work the Boone County politics beat was a revolutionary one. But in reality, until 1965, female reporters at the Missourian were only allowed to write for the "women's pages."
Wilkins, now a professor at the MU School of Journalism, moderated a panel Thursday night of female journalists from around the world who shared experiences in their field as diverse as their cultural backgrounds.
The forum was hosted by Global Journalist in honor of International Women's Day. Global Journalist is a multi-platform news source, which includes a magazine published by the School, a radio program aired on KBIA-FM and a website.
The panelists were:
Mary Kay Blakely, a professor at the School of Journalism and long-time contributing editor to Ms. Magazine;
Salem Solomon, who is from the African country of Eritrea and worked as a producer and anchorwoman for the English-language newscast on the country's largest news network;
You Li, who reported on legal issues and politics for a daily newspaper in Dailan, China.
Participating remotely via Skype and telephone:
The panelists began by asking the audience to list stereotypes commonly attached to female journalists: overly sensitive, sympathetic, empathetic and prone to cover "fluff" were some. But the panelists argued these so-called negative stereotypes can actually be used to female journalists' advantage.

"I do think we can carry our conversation skills over into the job," Blakely said. "You do get a lot more private, personal stories that have everything to do with the social issues that we're covering, but they add another dimension."
Solomon said being a woman has helped her reach sources her male colleagues might not have been able to approach. She experienced this in a small village while working on a documentary about clean drinking water.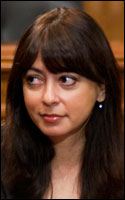 "When I go to my subjects and talk to different women, they feel more comfortable to talk to me," she said. "I would imagine that if a colleague, a man, would go out and try to talk to these women, they wouldn't feel comfortable to talk to them in the first place or not even show themselves because of the traditional culture."
Li said the biggest setback as a female journalist, in her experience, was needing to constantly prove herself to be considered as accomplished as a male colleague.
"The first word I come across is hardworking, hardworking, hardworking," she said. "You have to prove yourself in the field because you are not a manager, you are not an editor. You have to prove yourself over time."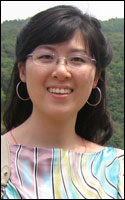 The panelists also discussed the issues of balancing expectations of motherhood with working full time. Wilkins said it's important to question expectations both in the social sphere and work world.
"When somebody tells you that something is a rule, question that," Wilkins said. "In order to be a fulfilled human being of either gender, the rules that we get don't necessarily work in every circumstance, so question them. Be willing to abide by them. Be willing to disregard them."
Angela Hamilton, a 33-year-old graduate journalism student, said she enjoyed the mix of diverse people and diverse technology used in the discussion. She said she has yet to experience many of the things the panelists discussed.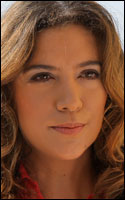 "I can relate to some of it, but they were talking about things that were in my future," she said.
Catherine Saidi, a fifth-grader at Russell Boulevard Elementary School who loves to travel and wants to be a journalist like her mom, KBIA news director Janet Saidi, said she liked how similar the women's stories were despite their different backgrounds.
"It was kind of cool because they all kind of go back to the same thing," she said. "That they all have to work harder because they're women. I'll be a really good journalist. I would work really hard and definitely put a lot of effort into it."
Updated: May 20, 2020
Related Stories
Expand All
Collapse All
---