Technology Sparks Innovation During Costa Rica Study Abroad Trip
The Course Offers Different Challenges and Opportunities for Storytelling
Columbia, Mo. (March 16, 2015) — Missouri School of Journalism students brought an array of technologies on a field-reporting trip in January to Costa Rica, where they encountered a smorgasbord of stories and new ways of telling them.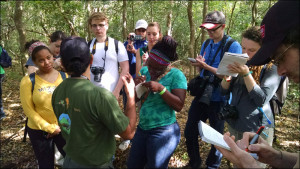 The students used infrared imaging, a drone, three-dimensional GoPro video cameras and a Lytro Illum against a backdrop of jungle, ocean and national park landscapes to report and write stories about environmental and social issues.
Their experience was part of the annual study abroad course "Covering Nature and Society in the Developing World," which takes students through the Monteverde region and Guanacaste Province of the Central American nation.
"Being in the field provided a wealth of opportunities to use new media technologies for the first time," said journalism master's student Paige Blankenbuehler. "I never expected to tell stories about holding a large fruit bat in one hand, while snapping photos using infrared imaging in the other."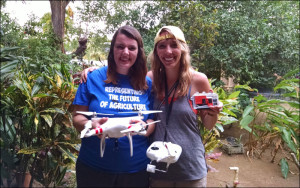 The students published on the MU Costa Rica website, producing stories, pictures and videos on topics ranging from over-fishing and climate change to Quaker history and women entrepreneurs in a culture of machismo. They also put updates on Facebook, Twitter and Instagram.
The Global Programs office at the Missouri School of Journalism has offered the two-week reporting trip annually since 2011.  This year the students used cameras from the MU3D project, a Mizzou Advantage program that is exploring the possibilities of 3D imaging for journalism.
The course is a journalist's working introduction to international reporting on the environment, agriculture and natural resources in the tropics. It's comprised of a 16-day field-reporting trip in Costa Rica and eight classes on the MU campus. Students report on tropical forests, wildlife, water resources, people and the impact of tourism on the economy.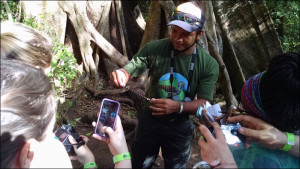 "Costa Rica is a great place for young journalists to encounter a new culture and learn how to navigate a Latin American country to get stories at the intersection of nature, economic development, politics and culture," said Bill Allen, assistant professor of science journalism and leader of the course.
Allen has written about Latin American science and environmental issues for the St. Louis Post-Dispatch, Yale Environment 360, Harvard magazine and BioScience. His book, "Green Phoenix: Restoring the Tropical Forests of Guanacaste, Costa Rica," is a history of the people, politics and biology of a major conservation project from 1986-96 that became a World Heritage Site.
Costa Rica, best known in the United States as a tropical tourism paradise, is a nation rich in biodiversity and other natural resources.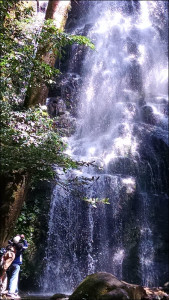 This year the reporting team traveled from the cool climate of the Monteverde Cloud Forest, which is threatened by a changing environment, to the drier climate in Santa Rosa National Park, where conservationists in the Area de Conservacion Guanacaste have rehabilitated its dry-rain forest. In Tamarindo, on the Pacific Coast, they noticed a trend toward building large beach resorts, which displace small villages, threaten drinking water supplies, and destroy mangrove forests and other natural habitats crucial for sea life.
Throughout the trip, Caleb O'Brien, a journalism master's student, used the Lytro Illum, a light-field camera that takes 40 images at once and stitches them together. A special viewer on the class website allows readers to isolate different focus areas of the photograph.
"Each technology presents different challenges and opportunities for storytelling," O'Brien said. "There's an abundance of material and lots of juxtaposition of human elements and nature. I tried to capture those elements in an interesting way, uniquely, on the fly."
Justin Stewart, a photojournalism master's student, and Natalie Helms, an undergraduate in the Science and Agricultural Journalism program, both experimented with flying a drone equipped with a 3D GoPro. Stewart flew the drone over La Casona, Santa Rosa's most historic monument, which commemorates the region's military history.
"It was as if we were the little ants and the drone was high in the sky," Helms said. "It was very exciting to get footage of a real landscape. It really opens up the opportunities when you can take a drone outside."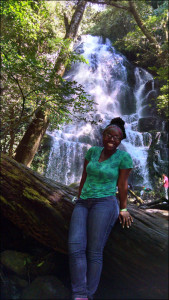 For all of the students on the trip, Costa Rica was a valuable venue for professional and personal growth.
"My time in Costa Rica taught me that if you're sleep-deprived and tired out in the field, just keep going," said undergraduate journalism student Joey Fening. "It's a lesson every journalist probably has to learn sooner or later, and I'm glad I got to learn mine in the gorgeous Costa Rican countryside."
The guiding light for the course is Mark Twain, who wrote books and newspaper articles about his extensive travels. Twain once wrote: "Throw off the bowlines. Sail away from the safe harbor. Catch the trade winds in your sails. Explore. Dream. Discover."
Said Allen: "All you need to do is add the word 'report' to the end of that quote, and you've got what this course is all about."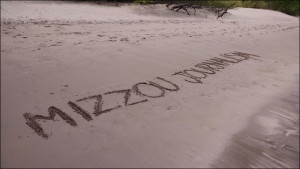 Helms discovered that applying the Missouri Method in Costa Rica can take a student to new levels.
"Costa Rica really opened my eyes to how far you can go to get a story," she said. "Don't be afraid to trek through a river or climb a volcano if it's going to get you to the sources you need."
Visit MU Journalism Abroad for more information about the Missouri School of Journalism's Costa Rica program during the January intersession.
Updated: August 4, 2020
Related Stories
Expand All
Collapse All
---