Journalism School Hosts C-SPAN School Bus
Columbia, Mo. (Jan. 26, 2004) — A plush couch lines half the room. British, Pakistani and Iraqi political programs play on two big screen TVs built into the wall. A Broadcast News class investigates this traveling TV production studio, also known as the C-SPAN School Bus. The Missouri School of Journalism hosted the bus as it was en route from the Iowa caucuses to the South Carolina presidential primaries.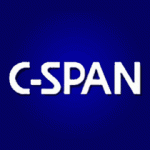 The C-SPAN bus visits schools and state capitals across the nation, increasing awareness of the political network's value as an academic resource. The goals of the network's tour coincide well with the school's Missouri Method, a teaching style that emphasizes a hands-on approach to studying journalism.
"The big yellow C-SPAN school bus is an impressive traveling production studio that allows the station to educate citizens and prospective journalists about its mission. By traveling to the School of Journalism, C-SPAN helped initiate discussions in our class about objectivity and ethics in the way broadcast journalists prepare their stories," Broadcast News Professor Lynda Kraxberger said.
C-SPAN specializes in coverage of U.S. government response; more specifically, on activities within the legislative branch. Their style is characterized as "gavel to gavel," meaning that programs are unedited and without commentary or commercials.
"C-SPAN offers Americans a different kind of journalism: raw and unedited in comparison to the highly produced, stylized news from commercial stations," Kent Collins, Broadcast Department Chair, said. "It's good for our students to understand this 'primary source' type of coverage."
Updated: March 11, 2020
Related Stories
Expand All
Collapse All
---