5 Students Cover Politics, Science of Hunger at World Food Prize Meeting
The Experience Included Interviews with Global Leaders and Government Officials
Columbia, Mo. (Oct. 24, 2014) — Students from the Missouri School of Journalism and College of Agriculture, Food and Natural Resources teamed up Oct. 7-10 to cover the politics, science and human aspects behind global hunger at the annual World Food Prize/Borlaug Dialogues in Des Moines, Iowa.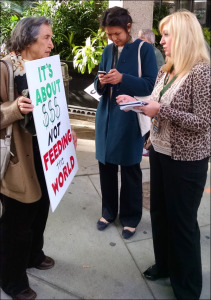 Their stories revealed new details about the tragic problem of food waste, the importance of soil health and the looming hunger crisis in Ebola-plagued West African countries. Their coverage, which gave voice to world leaders as well as street demonstrators, appeared in Farm Journal and their class blog, MU Earth.
In the class are two journalism students – seniors Jessica Vaughn and Anna Maikova; two from the Science and Agricultural Journalism Program – senior Breanne Brammer and junior Ann Millington; and first-year rural sociology doctoral student Yvonne Moore.
The World Food Prize trip was "a whirlwind, and an incredible one," Vaughn said. "I am truly grateful that I was able to take advantage of the opportunities Mizzou provides to be immersed in a professional setting and gain real-word experience."
The four-day trip was part of the Field Reporting on the Food System and Environment: Covering Global Food Insecurity course taught by professors Nina Furstenau and Bill Allen. The trip was made possible by support from Farm Journal, the Science and Agricultural Journalism Program and CAFNR.
The students were based mainly in the ground-floor newsroom of the Marriott Hotel Downtown, working side-by-side with professional journalists from the United States, Europe, Africa and Latin America. They attended news conferences, conducted interviews with world leaders and scurried throughout the hotel's convention center to cover speeches, panel discussions and other events.
At one point they charged out of the newsroom to cover a sudden street demonstration by anti-biotech protestors.
The trip was an immersion experience aimed at giving students content knowledge and a taste of the art, craft and science of professional-level newsgathering for four straight days. They met farmers, researchers, government officials, industry representatives and political advocates.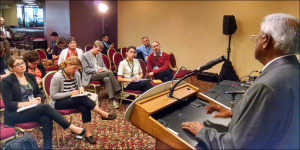 A theme of the meeting was how to feed a growing population without destroying the environment.
"I was treated like a professional journalist and had high expectations to meet outside of the classroom curriculum," Brammer said. "I met with leaders who are collaborating for a sustainable solution to world hunger. It was humbling to be in a room surrounded by diverse experts in agriculture who are truly the 'best of the best.'"
Moore said the World Food Prize reporting experience gave her "a deep appreciation for the time it takes to write and communicate information in a way that is engaging and informative." Moore is a veteran of the Peace Corps with a strong interest in writing.
The trip also gave her "the chance to reflect on the complexity of our broken food system and engage with a diverse population of eaters," she said. "Now more than ever I am convinced that food is merely a starting point, and each individual person makes a difference every single time they eat. Food is political."
Vaughn said her knowledge of agricultural issues "has grown exponentially" and that she got "an excellent crash course" in what it means to "work in a fast-paced setting."
"I have been able to share my new insight with a large audience thanks to this program," Vaughn said. "I have made connections with people from many professions all over the world who I wouldn't have had the chance to meet anywhere else."
Farm Journal will print Vaughn's article in its mid-November print issue.
Brammer was a freshman when the World Food Prize reporting class was developed. She knew then that she wanted to be a part of the program. "Now, as a senior, I was able to obtain its real-life reporting experience," Brammer said.
Updated: July 31, 2020
Related Stories
Expand All
Collapse All
---