Students Use Google Glass to Cover the World Food Prize Conference
The New Wearable Technology Has Potential for Journalism
By Bill Allen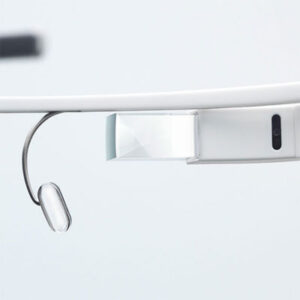 Des Moines, Iowa (Oct. 21, 2013) — It started when Bruce Rasa walked into the pressroom Thursday afternoon in the Marriott Hotel Downtown wearing Google Glass.
It ended with Kate Hrdina and Rachel Zamzow, two University of Missouri students, pioneering in using Google Glass to cover the World Food Prize.
Rasa is a member of the fifth generation of a farm family that settled near Higginsville, Mo. His family grows corn, soybeans and cattle, but Rasa pursues innovations in computer technology.
In February 2012, he was selected as one of the 8,000 people in the world to test Google Glass, the wearable technology that resembles a pair of eyeglasses.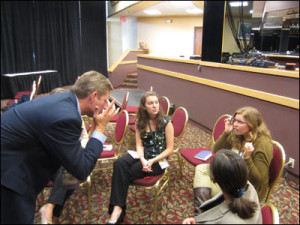 In the pressroom here, Rasa showed the device to a class of six MU students covering the food prize conference as part of a Science and Agricultural Journalism course on "Field Reporting on the Food System and Environment."
Google Glass uses data from the user's smartphone or tablet and displays a screen in the upper righthand corner of the user's field of vision. It has 16 gigabytes of storage, a 5-megapixel camera, voice command and a touchpad for control.
True to form, the Mizzou students took Glass (with Rasa's permission) and ran out to report the news.
In this instance, the journalists were Hrdina, a senior in Science and Ag Journalism's food and wine writing track from Columbia, Mo., and Zamzow, a doctoral student in neuroscience from Austin, Texas. Zamzow donned Glass, and Hrdina led her on a brief tour of the conference, which was just closing for the day. (See the unrehearsed and unedited video at bottom.)
Rasa, an MU alum and managing consultant with Inventive Branding LLC of Atlanta, said he was impressed with how quickly the students engaged with the new technology.
"The students' enthusiasm and fascination with the device was higher than any I have seen – even for the Apple iPhone or iPad," he said. "As Mizzou journalism and agriculture students have always done, I expect them to lead the world in exploring this new frontier."
Rasa earned a bachelor's degree in 1990 from MU in agricultural economics. While at the university he became interested in computer technology. He worked for IBM for 17 years on a wide range of projects.
He said he believes Glass can convey the story of agriculture to the public around the world. For farmers, it can help with scouting crops and remotely getting help fixing their equipment.
"What I saw was six Mizzou Science Journalism students who did not blink," Rasa said. "All six of them took to Google Glass immediately and envisioned the potential for this new wearable technology to be used as just another tool for storytelling, both by journalists and 'citizen journalists.'"
Updated: July 20, 2020
Related Stories
Expand All
Collapse All
---