How Students Used PublishThis to Curate RJI's Mobile First Symposium
By Hannah Schmidt and Meredith Turk
Published May 20, 2014, by PBS MediaShift; used by permission.
At the Missouri School of Journalism, students are guinea pigs for new innovations, products and processes that are breaking ground in the news and digital spheres.
Ten students in Jim Flink's Emerging Technologies class had firsthand experience using a curation news application during a live event, the Donald W. Reynolds Journalism Institute's Mobile First symposium in early April. Students selected and commented on content related to presentations by speakers from Google, CNN, Hearst, Scripps, Mashable and other media and technology companies. Their work was published in real time at www.RealizingInnovation.com.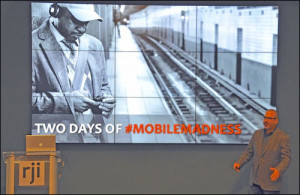 Students learned a great deal beyond real-time curation during the symposium. It was a learning experience about how to build a digital conversation in a conference environment, which can be a static experience. Content to support the conference speakers – including CNN futurist Victor Hernandez and Dave Gehring of Google – was selected during and immediately after the speakers presented.
This material will be a resource past the conference with the help of the curation and news publishing platform PublishThis.com.
Curating and Publishing Content
The actual experience of real-time curation during the Mobile First symposium was new for many students. Using PublishThis' semantic search engine, student producers flagged content from a specified list of leading journalism and technology blogs and publications, including text, social media and video. Selected content to curate to the WordPress RealizingInnovation site added to the understanding of the speakers and their topics. Student producers had one ear on the conference and the other in the symposium newsroom, working to find content that added an extra element.
Curating content for the Mobile First conference was not intuitive from the first attempt. Multitasking made this difficult.
We sometimes struggled to find relevant articles while also listening to the speakers at the conference. We decided to only focus on the added content and relax about trying to follow the conference speaking at the same time. It allowed us to focus on finding interesting material about the speaker or company even if it was not completely related to the presentation.
The students also frequently added annotations, called "My Take." The annotations sought to answer simple questions: Why is this article/video/tweet important? What does it add to the presentation and topic?
This was one of our favorite parts. We liked being able to explain to readers what they would gain from viewing it and why we thought the content was relevant to the speaker. It also allowed us to show more personality and a voice to the curated content.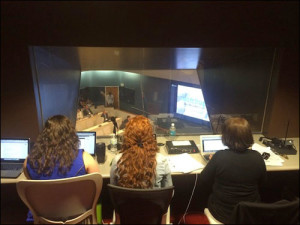 Another aspect of the site was automated content. Because the students had limited time to discover and curate content key to the presentations, many curated posts also were enhanced with additional content feeds. These included source bundles of RSS and Twitter feeds and automated keyword and key phrase search results "cards" on the pages.
Keeping It Traditional
Some traditional newsroom practices were still important even when working with the new product from PublishThis. Mari Anixter, of the blog network Innovation Excellence, served as the site editor, making sure the curated and annotated content met journalistic standards. She assisted students with establishing a workflow, choosing articles, finding additional images, writing annotations and publishing to the site. RealizingInnovation used a PublishThis WordPress plug-in to post draft content to the site.
Attendees and viewers of the live video stream also were invited to curate their own selected content during the event through a PublishThis bookmarklet.
RJI research fellow Kim Garretson, BJ '73, coached the students for the event. Garretson said, "Our experiment with a curation newsroom for the event was aimed at the trend of many media companies looking at local event marketing as a new revenue stream. A site like RealizingInnovation demonstrated that an event promoter can provide a richer and more lasting experience with tactics like our students executed."
Hannah Schmidt is a graduating senior at the Missouri School of Journalism. She is focused on multimedia production and digital journalism. Hannah's work has been seen on CNBC.com, Newsy.com, AOL's Morning Rush & the Columbia Missourian. Follow her at @HanJeanne.
Meredith Turk is a graduate student the Missouri School of Journalism. She focuses on multimedia, investigative and data reporting. She spends most of her time at KBIA-FM, Columbia's NPR affiliate station. Meredith will be working at CNN's investigative unit in DC this summer. Follow her at @murdithshewrote.
Updated: July 27, 2020
Related Stories
Expand All
Collapse All
---