Newsy.com Partners with Missouri School of Journalism to Offer Online Video News Site
News Site is First to Provide Daily Multi-Perspective Views of News
By Emily Smith
MU News Bureau
Columbia, Mo. (April 8, 2009) — As the world becomes increasingly interconnected, consumers have a wider variety of news sources at their disposal but lack an easy way to compare and contrast sources. Newsy.com, a new online video news service, in partnership with the Missouri School of Journalism, is the first site to compare news sources and provide daily multi-perspective views of the world's news coverage.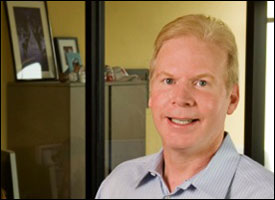 "Newsy provides immediate analysis of news perspectives so consumers can form their own opinions," said Jim Spencer, president and founder of Newsy. "We combine context with convenience to help make viewers smarter, faster. Multi-perspective news is now in great demand as people realize that there is more than one side to a story and news reporting is increasingly viewed as biased."
The site produces two-to three-minute smart video snapshots that explain how the world's news organizations are reporting stories. Rotating editorial teams analyze each day's news by monitoring television, blogs, newspapers, magazines and the Internet. They utilize a proprietary technology to monitor content, which allows them to efficiently sift through hours of media.
Alongside news professionals, University of Missouri journalism students practice the "Missouri Method" of journalism by helping to research, write and edit stories, which provide various perspectives and analysis of differences in news coverage. Newsy offers two classes at the journalism school taught by the company's seasoned vice presidents of content and marketing. Students also learn and practice state-of-the-art audience development methods such as social media and search marketing. Newsy is supported by content licensing fees and online video advertising.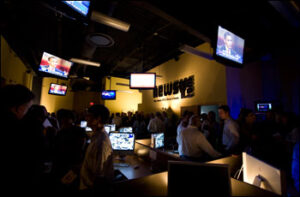 "Having a world-class news operation next-door to the Reynolds Journalism Institute and the journalism school is a boon to both," said Dean Mills, dean of the school. "Newsy is a model partner for the innovative research and teaching we see as the future of excellent journalism."
Spencer, MA '91, moved the company to Columbia last June from California's Silicon Valley. Newsy's office is located one block east of MU. Recently, BusinessWeek named Columbia the best small city in Missouri for startup businesses. The company benefits from the location next to the journalism school, Spencer said.
"Columbia is the smartest and most economically viable location for Newsy," Spencer said. "The proximity to and collaboration with the Missouri School of Journalism and the Reynolds Journalism Institute are important components to our company's success. The school and institute act as a global magnet to attract talented people from around the world who are interested and invested in the future of journalism. Columbia and the State of Missouri provided a huge cost savings; building Newsy in the Bay Area would have cost four to five times more and our partnership with the university provides us with an innovative business model and strategic competitive advantage."
Newsy has received economic development incentives from the City of Columbia (REDI) and substantial tax credits from the Missouri State Department of Economic Development. The company raised $1.1 million in its first round of funding primarily from Missouri-based angel investors and is now raising its next round of $2 million.
"We want to show that Missouri is open for business and that you can move your company here and compete effectively on the global stage," Spencer said.
Last week, Newsy.com launched its new Web site based on its users' feedback, research from the Missouri School of Journalism and usability testing conducted by the University of Missouri Information Experience Lab.
Consumers can view the new site and multi-perspective news videos at http://www.newsy.com/ and are invited to comment on every story.
Updated: May 1, 2020
Related Stories
Expand All
Collapse All
---