Columbia Missourian, MU3D Provide 3D Scans of Festival
The Images, When Scanned on a Computer, Can Be Spun in Any Direction
Columbia, Mo. (March 13, 2015) — The Columbia Missourian took a new tack on "in-depth journalism" by offering its readers 3D images of costumed participants in the True/False Film Fest.
Missourian photographer Mike Krebs used a Structure 3D scanner from the MU3D project to create detailed images of festival participants just before the event and then shot a series of revelers as they prepared for the colorful True/False March March. True/False is an annual celebration of documentary film that draws thousands of people to Columbia.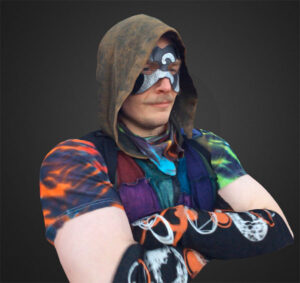 The images produced by the scanner are intricately detailed and, when viewed on a computer, can be rotated, flipped and spun in any direction. The scans allow viewers to see the details of a Viking's horns and the ominous hood of "The Patchwork Ninja."
"We don't yet know the optimum uses of scanners for news images, but the time is right to experiment," said Associate Professor Clyde Bentley, one of the MU3D project directors.
Until recently, portable 3D scanners costs tens of thousands of dollars. The Structure and similar new devices use the power of an iPad to drive a sophisticated laser scanner – all for less than $500. Scanned images are uploaded to the Sketchfab 3D social media site, then embedded in the newspaper's website.
"The embeds work well on the Missourian's website, although the originals on the Sketchfab site are somewhat sharper," Bentley said, noting that the technology is still in its early stages. "The use of embeds of this type is much like the early use of YouTube embeds and will only get better."
A primary goal of the MU3D project is to overcome the slow speed-to-publication issue that is a minor problem for cinema, architecture, science and other current 3D users but critical in news.
"They can take days or weeks to process an image," Bentley said. "We have minutes." Because the scanning photographer must circle a motionless subject several times, the Structure process is slow. The technology is rapidly improving, though. "Instant scanning technology is already here, but costs $50,000 or more," he said.
The MU3D project will continue to work with the Columbia Missourian and other news outlets to explore the potential of 3D scans, television-accessible 3D video and the new light field photo technology.
MU3D is a Mizzou Advantage project that is exploring the possibilities of 3D imaging for journalism. Joining Bentley in the project are Bimal Balakrishnan, Architectural Studies; Bill Allen, Science and Agricultural Journalism; Anand Pralhad, Computer Science; Nathan Byrne, Newsy; and Reuben Stern, Reynolds Journalism Institute's Futures Lab.
For more information about the project, contact Bentley.
Updated: August 4, 2020
Related Stories
Expand All
Collapse All
---