Clyde Bentley Honored as 2004 University Bookstore VIP
Columbia, Mo. (June 2, 2004) — A graduating student's letter of thanks resulted in a new "seat of learning" in Associate Professor Clyde Bentley's office in the Missouri School of Journalism.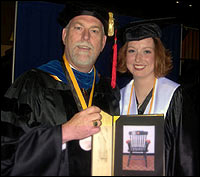 Bentley was named the 2004 University Bookstore VIP-Very Influential Professor — based on an essay about him submitted by graduating advertising student Kate Certain. He was awarded an heirloom chair with the University of Missouri emblem.
Certain said Bentley offered his assistance when she told him of her emotional struggles following an assault. Bentley and other Missouri faculty and staff organized assistance so she could finish her program.
"At a time where I felt tragically alone and lost, he stood by my side. I will be wearing my cap and gown the May because of him," Certain wrote.
The VIP Program is a way to help students recognize a faculty member who has made a profound impact on their lives. The bookstore utilizes the Web site and information at graduation fairs to invite seniors to nominate a faculty member who had made a difference.
In this second year of the program, 22 essays were submitted. A committee of faculty and staff evaluated the essays. The faculty member selected is presented with a Mizzou captain's chair while the nominating student receives a diploma frame.
"I'll cherish this chair forever, but nothing will beat seeing Kate's smile when she graduated," Bentley said. "I've always believed she has a great future ahead of her."
March 8, 2004:
There is no way I could have graduated without Dr. Clyde Bentley. My junior year, I was placed in his J333 course, a requirement for advertising majors. Little did I know that he would change my life forever. My freshman year I was a victim of sexual assault at this campus. The trauma ignited severe mental issues that I dealt with in and out of the hospital over the next couple of years. By the time I was in J333, I had managed to pass all my courses, but without the GPA that was originally intended. Dr. Bentley recognized the pain I was going through and approached me to help one day – something that no professor had done for the last three years. I divulged my story to him in great detail one day in his office., the problem facing me at the moment was that I could no longer afford to see a psychologist simply because I could not afford it any longer. Within a matter of weeks, Dr. Bentley had organized all of my teachers and administrators at the Journalism School to help me battle my financial woes. Apparently it was taken as far as the Vice-Provost's office in order to wrangle together the funds necessary so I could remain in school. At a time where I felt tragically alone and lost, he stood by my side. I will be wearing my cap and gown this May because of him. I sincerely hope you consider Dr. Clyde Bentley for the honor of Very Influential Professor, as he has been very influential to me.
Kate Certain
Updated: March 16, 2020
Related Stories
Expand All
Collapse All
---