Emerging Technologies in Journalism Class Experiments with Distant News Coverage of ONA13
Project Might Provide Insights About How to Maximize Work of Foreign Bureaus
Columbia, Mo. (Oct. 21, 2013) — Students from the Emerging Technologies in Journalism class at the Missouri School of Journalism experimented in technology-enabled distant news coverage of ONA13, the Online News Association 2013 conference held Oct. 17-19 in Atlanta.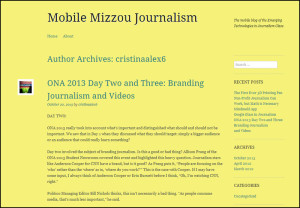 Each of the students had a content category on which to focus their reporting, and they used only reports from blogs, Twitter, websites and social media to craft reportable news. This conflicts with normal newsroom practice as Web information is not used as primary source material.
Reports were made daily throughout the convention and posted at Mobile Mizzou Journalism. Although much of the class focuses on mobile technology, students were free to post from whatever device they prefer.
The goal was to test students' abilities to report accurately and thoroughly without actually being on site, according to Associate Professor Clyde Bentley, who teaches the course. Those enrolled are studying radio-television and convergence journalism as well as print and digital news.
"The project was not so much to demonstrate their reporting skills, but to let them experiment with technology," Bentley said. "This work should give us good fodder for discussion."
The idea for the distance-coverage experiment came from class discussions on the impact of the economy on international news, including reducing the number of correspondents assigned abroad as well as the closure of foreign bureaus.
"While Web-based coverage may never replace the quality of face-to-face reporting, tech-driven distance coverage could make up for part of the content lost caused by the bureau shutdowns," Bentley said.
Updated: July 20, 2020
Related Stories
Expand All
Collapse All
---