Famous Footwear Taps MOJO Ad to Reach the Youth and Young Adult Market
Missouri School of Journalism's Student-Staffed Ad Agency Delivers 3 Campaign Recommendations
By Marissa Ferri
Public Relations Account Executive
MOJO Ad
Columbia, Mo. (May 28, 2013) — Famous Footwear, a leading shoe retailer of Brown Shoe Company, challenged MOJO Ad to differentiate their brand from other shoe retailers in the market at the beginning of the spring 2013 semester.
The agency, the Missouri School of Journalism's student-staffed, professional-services advertising agency, targets the Youth and Young Adult (YAYA) market, those in the 18-24 year-old age group. The students in the agency are divided into three teams of 10 to create three different campaigns and provide advertising recommendations in a final presentation at the end of the semester.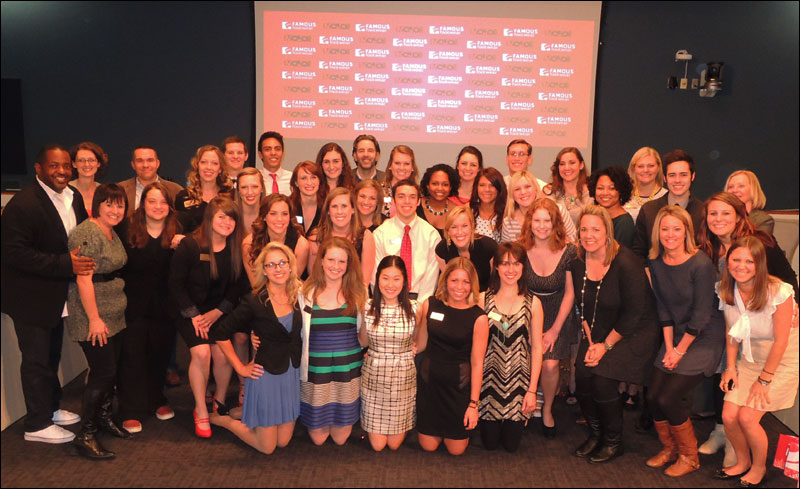 Representatives of Famous Footwear and its media agency, Cinncinati-based Empower MediaMarketing, recently visited campus for the final campaign presentation.
The students first presented a situation analysis that covered secondary and primary research on the brand. This was followed with an overview of Famous Footwear's social media engagement throughout the semester to show consumers' sentiment and interaction with the brand. Then, each of the teams delivered their campaigns allowing the client representatives to evaluate and give feedback.
The verdict?
"The preparation was outstanding, and their presentation skills were tremendous," said Will Smith, senior vice president of retail marketing for Brown Shoe Company. "The idea that they can dig into our business for 8-10 weeks and come back and flip it around to real-life, applicable solutions is unbelievable."
A colleague echoed this sentiment.
"I was really impressed by the level of insight that they went into," said Roshelle Scott, director of advertising and brand development for Famous Footwear. "Anything you would get from a regular agency, you would get from this group of students."
Research on the campaign assignment started in February. Students met with the client and visited the brand's headquarters in St. Louis to learn key consumer insights and product information.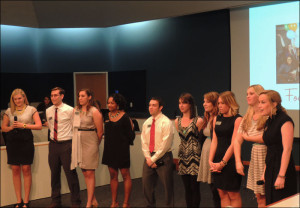 MOJO Ad students then conducted focus groups and analyzed responses using a mobile application from Nowwhat research, an agency that specializes in strategy and insights. This mobile research approach allowed participants from across the Midwest to upload personal stories and images, which helped the teams to understand the relationship that they had with their shoes.
The primary research allowed the teams to develop key consumer insights that would be the basis for each of the three independently developed campaign recommendations. Each team utilizes students' talents and expertise in strategy development, creative design, media tactics and planning, and research.
Famous Footwear chose one team as the winning campaign but can use any of the three teams' recommendations. Famous Footwear media specialist Katie Sheehan said that there were several ideas for social media that the brand could implement right away. She added that she couldn't wait to get her hands on the teams' media books and dive into the numbers.
"The biggest thing I took away from the Mojo presentation is how much work these kids do and how it really is like our ad agencies we work with right now," said Amy Rose, director of integrated media at Famous Footwear. "It's amazing because the work is really quality, and they have great ideas."
The client's representatives weren't the only ones the MOJO Ad students wanted to impress. Strategic communication professors who advise the agency assessed the semester grade based on the presentation and advertising plan books.
Professor Margaret Duffy serves as CEO of MOJO Ad. Strategic communication faculty who worked with MOJO Ad were Associate Professor Barbara Ifshin, the director of account management and planning; Assistant Professors Frank Corridori and Mark Swanson, co-creative directors; Assistant Professor Stephanie Padgett, director of media and research; and Futures Lab Advertising Editor Brad Best, director of technology. Graduate students Katie Artemas and Ginny Chadwick helped manage the work.
From these three recommendations, Rose said that Smith has already planted a couple bugs in her ear to help grow Famous Footwear's business. She said they liked the students' idea of speaking to the YAYAs differently and growing them into a brand at a young age.
"When you really think about how much these students have given up their time to add value to our business, that's unbelievable," said Smith. "For anyone who really wants a new idea, somebody to press their business to that next level around another thought of engagement, this is definitely worth the time."
Updated: July 16, 2020
Related Stories
Expand All
Collapse All
---