MOJO Ad wraps up its semester, announces new staff and client
Columbia, Mo. (June 6, 2016) — MOJO Ad celebrated the accomplishments of spring on May 5 at the semi-annual Hello/Goodbye event, welcoming in the new staff and announcing the new client for the 2016-17 academic year.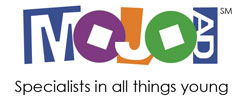 This semester's Hello/Goodbye party used the comedy film "Dodgeball" as the inspiration for its theme. Current and incoming staffers dressed in their best athletic gear to recount the semester's events before hitting up Francis Quadrangle for a dodgeball tournament. Team Polaris created the winning campaign for BENGAY, the client for the spring semester.
The 33 new MOJO Ad staffers will return in the fall to work on various projects, including the State of the YAYA report, 2017 Strategic Communication Career Fair and promotion of the MOJO Ad brand, along with a national campaign targeted at the 18-to-24-year-old YAYA audience for their new client, Ocean Spray.
"The students are what makes MOJO Ad special," said Jon Stemmle, associate professor of strategic communication and co-director of MOJO Ad. "Our new staff is the largest ever and we'll need every single one of them to be at the top of their game for projects like State of the YAYA and the Ocean Spray client project. I think both the staff and professors alike are looking forward to getting started and are already brainstorming ideas."
Strategic communication students making up the new MOJO Ad staff are:
Kevin Ackermann, Graphic Designer
Kylie Bixby, Media Planner
Julia Brun, PR Account Executive
Nikki Caldwell, Account Executive
Clayton Conness, Account Executive
Breckyn Crocker, Media Planner
Macyn Gillespie, Copywriter
Samantha Huston, Art Director
Rosie Hutchison, Copywriter
Madeline Jones, Account Planner
Laurel Kasten, Graphic Designer
Kristi LaRue, Graphic Designer
Jamie Lazaroff, Account Planner
Miranda Lee, PR Account Executive
Derrick Lin, Digital Strategist
Amanda Manno, Video/Producer
Rachel Moore, Content Manager
Jalen Mosby, Digital Strategist
Jillian Mullin, Art Director
Bradley Nachtrieb, Video/Producer
Abigail Narishkin, Content Manager
Brianna Olson, Copywriter
Jackie Olson, Account Planner
Jacob Renie, Researcher
Hailey Rutledge, Digital Strategist
Maris Smith, Researcher
Zach Stoner, Video/Producer
Hannah Tinnin, Content Manager
Faith Vickery, Media Planner
Michael Wang, Researcher
Marta Witko, PR Account Executive
Mara Worley, Account Executive
Claire Zou, Graphic Designer
MOJO Ad is a student-staffed, professional services advertising agency based in the Missouri School of Journalism. The students are specialists in all things young, specifically 18- to 24-year-olds, the youth and young adult (YAYA) market.
Updated: September 29, 2020
Related Stories
Expand All
Collapse All
---