Humans of Strat Comm: Miranda Cowan
Columbia, Mo. (May 9, 2017) — Miranda Cowan has been hooked on telling stories since she was 13 years old. This passion has led her to pursue a career in copywriting at the J-School so she could cultivate her creative spirit.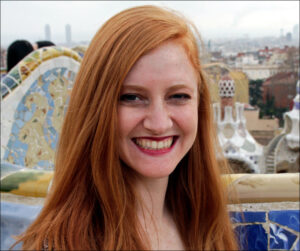 As a freshman, Miranda was eager to jump in and learn all that she could about the strategic communication industry, so she joined the American Advertising Federation (AAF). Little did she know the impact her involvement in AAF would have during her time at Mizzou.
Fast forward to this year and Miranda was one of only 20 students across the nation recently chosen for the AAF Stickell Internship Program, which places outstanding students in paid summer internship positions with top media organizations, advertising agencies and brands. Since 1989, more than 250 students have been chosen for this prestigious program.
"I feel truly honored to have been selected for this program," said Miranda, who will begin her senior year at Mizzou this fall. "It's a great opportunity, and I know I'll learn a lot from it."
Miranda will intern at The Richards Group in Dallas this summer. The Richards Group is the largest independently-owned advertising agency in the country with clients like Chick-fil-A, Dr. Pepper, Home Depot and many more. Miranda will be on the creative team and will be working with real-world clients to produce high-quality content.
"I'm hoping to bring a fresh perspective, innovative ideas, and a passion for diversity to The Richards Group," Miranda said. "I love to look at things from every angle, and I'm hoping this experience will help me develop some killer creative campaigns in the future."
Her time at the Richards Group this summer will no doubt prepare her for next fall where she will be joining the MOJO Ad staff as a copywriter. MOJO Ad is the premier full-service, student-staffed professional advertising agency at the Missouri School of Journalism. They are specialists in all things young, specifically 18- to-24-year-olds, also known as the youth and young adult (YAYA) market.
Originally from St. Louis, Miranda is also a Spanish minor and is currently studying abroad in Barcelona where she is a content creation intern at All Media Consulting. In her internship, Miranda is in charge of writing articles, pitching stories to media, researching the target market and crafting a social media plan. From her study abroad experience, she has found that one of the biggest differences with working overseas is the office culture and pace. Working with people from all across Europe with various languages and cultures has been both challenging and rewarding for Miranda.
Miranda has a passion for many different outlets of communication and wants to use her experience and this new opportunity to make the advertising industry more inclusive for all.
"Our generation is the most diverse generation to date, and the advertising in our country still does a poor job of reflecting this," Miranda said. "I want to push for more representation and less stereotypes in ads."
Miranda's passion for inclusivity paired with her innovative mind will definitely make her a force to be reckoned with during her internship, the rest of her time at Mizzou and beyond.
Updated: October 20, 2020
Related Stories
Expand All
Collapse All
---