MOJO Ad Pitches Mobile Platform Strategies to Television Bureau of Advertising Executives
TVB Plans to Develop One Student-Produced Campaign for Its Member Stations
By Ryan Meyer
Public Relations Account Executive
MOJO Ad
Columbia, Mo. (March 20, 2008) — With television advertisers looking to find new ways of reaching younger consumers who live in a digital world, the nation's leading trade association for broadcast television turned to MOJO Ad for answers.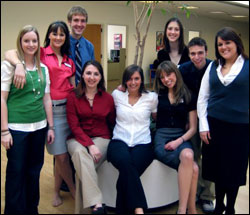 MOJO Ad, the Missouri School of Journalism's student-staffed strategic communication agency, specializes in creating solutions to reach the ultra-savvy youth and young adult market (YAYA©). That is why the Television Bureau of Advertising (TVB), a New York-based trade association that promotes local broadcast advertising platforms, recently employed MOJO Ad to develop mobile advertising campaigns targeted to an 18-to-24-year-old audience.
Three MOJO Ad teams took on the challenge, each hoping to have its campaign be the one that the TVB could implement for its member stations. Each team analyzed mobile phone advertising trends and conducted new research before developing digital strategies that integrated advertisers into the services. Students also made sure that each program had the potential to be profitable for the advertisers and the television station by engaging consumers in the highly targeted messages.
MOJO Ad students also presented creative advertising, promotional campaigns and media plans to create buzz about their programs.
Such detailed, professional work is all part of MOJO Ad's plan to train the next generation of strategic communicators, said Larry Powell, assistant professor of strategic communication and agency director for MOJO Ad. Students are responsible for conducting detailed research, using sources such as the U.S. Census Bureau, AC Nielsen, Information Resources Inc., Simmons, Market Research Insight and Claritas, to create solutions for their clients.
"Students who are selected to be a part of the MOJO Ad staff become experts in the youth and young adult market," Powell said. "When these students, who are part of the YAYA© market themselves, combine this knowledge with their own intimate understanding of the segment, they are able to provide our agency partners with unparalleled insights."
All together, 27 students worked on the TVB project to create three campaigns. The proposed platforms were developed for KOMU-TV in Columbia, the only university-owned commercial television affiliate in the United States whose newsroom is used as a training lab for students.
The platforms were:
The Ampere
Created by Team myPerbole, "The Ampere" is a virtual venue where Mid-Missouri residents can register for mobile applications that connect them to the local music scene. Ampere users get information about concerts and artists that is sponsored by local advertisers.
Mid-Mo Know and Go Text
Created by Team 9 to 9, the program "Mid-Mo Know and Go Text" sends YAYA's mobile text updates about sales, specials and events from local advertisers. Users choose which messages they want to receive, so that they are always "in the know" about what is happening in the local scene.
ProMo
Created by Team YOUniverse, the opportunity search program "ProMo" allows users to find volunteer positions, internships, part-time jobs and careers. Users benefit because the site only offers opportunities geared toward their age group. Advertisers benefit because they can highly target this group with narrowly tailored messages.
TVB executives from New York and representatives from member stations met the MOJO Ad teams in St. Louis to hear their mobile platform strategy presentations. These included Paul Trelstad, senior vice president of Gannett Broadcasting; Ed Ziskind, vice president of group sales and marketing for Tribune Broadcasting; Bryce Moore, Web site manager at KMOV.com in St. Louis; and Gary Belis, BJ '77, vice president of communications for the TVB.
"Mobile marketing today is where the Internet was in 1995 – getting ready to explode," Belis said.
After three quality presentations, TVB executives chose Team myPerbole's strategy to "amp your cell" with music updates from The Ampere as the winning strategy.
Speaking for the selection group, Belis said that they were impressed by the high caliber of talent and creativity displayed by all MOJO Ad students. He said that their forward-thinking campaigns will be used to solve everyday business problems.
After the presentation, students said that they gained tremendous industry knowledge and professional confidence from this real-world client assignment.
"This project allowed me to really attack an issue that advertisers are facing in the real world," said account executive Alison Mueller, a senior strategic communication major who led strategy development for Team YOUniverse. "It is always hard to think of something that has never been done before and get people interested in it. But, now I feel like I am an expert in mobile phone advertising."
Mueller said presenting her team's strategy to such high-level executives in the industry was extremely rewarding on a personal level and further prepared her for the professional world.
"The best compliment they gave us was that we could get a job anywhere with what we know about mobile advertising," Mueller said.
Updated: April 27, 2020
Related Stories
Expand All
Collapse All
---