MOJO Ad to Develop Integrated Campaigns for National Chain Famous Footwear
By Susan Visscher
Public Relations Account Executive
MOJO Ad
Columbia, Mo. (Feb. 12, 2013) — MOJO Ad, the Missouri School of Journalism's student-staffed, professional-services advertising agency, will develop integrated strategic communication campaign ideas for Famous Footwear during the spring semester. The campaigns will target the Youth and Young Adult (YAYA) market, those in the 18 to 24-year age group.

Famous Footwear, part of the $2.6 billion global Brown Shoe Company, sells name-branded shoes at competitive prices through a nationwide chain of more than 1,000 retail stores and companion website, Famous.com.
After the primary and secondary research is conducted, three teams will compete with each other to develop a comprehensive plan that may use social media, advertising, public relations, special events and other promotional tools.
Each team will present their ideas to Famous Footwear executives as well as representatives from the Cincinnati-based Empower MediaMarketing, Famous Footwear's media agency. The agency will review the submissions and consider for further development.
Will Smith, senior vice president of retail marketing for Famous Footwear, said the YAYA market is an especially important demographic for their company.
"There is a gap between when teens are shopping with their mom, our core target, and when they enter our target demographic," Smith said. "This 18 to 24-year-old group represents a real opportunity for Famous Footwear to build continual loyalty."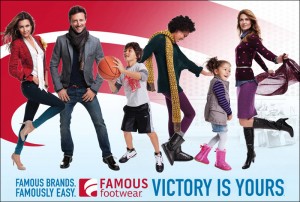 By teaming up with MOJO Ad, Smith said Famous Footwear hopes to gain some fresh thinking, new ideas and insights into a market they don't traditionally target.
Laura Nix, a director at Empower, said MOJO Ad's focus on the YAYA market has them especially excited about the opportunity.
"Mojo students are within the younger segment we are trying to build a meaningful connection with each year, especially around back to school," she said. "And while primary and secondary research are great ways to glean insight, having the YAYAs themselves provide a roadmap to success for speaking to and with them is invaluable."
Margaret Duffy, CEO of MOJO Ad, said she is thrilled about the opportunity to work with a leading brand like Famous Footwear.
"MOJO Ad will help Famous Footwear get into the heads of young people and create strategies driven by research, students' own experiences and media use," Duffy said. "This is a terrific way to turn young prospective customers into loyal fans."
Updated: July 13, 2020
Related Stories
Expand All
Collapse All
---