Asia Pacific Regional President of FleishmanHillard Visits Journalism School
Lynne Anne Davis, BJ '87, Celebrates Homecoming, Meets with Strategic Communication Students
Columbia, Mo. (Oct. 19, 2015) — Lynne Anne Davis, BJ '87, regional president of the Asia Pacific region of FleishmanHillard, visited the University of Missouri to reconnect with her alma mater during Homecoming and to share her career experiences with strategic communication students.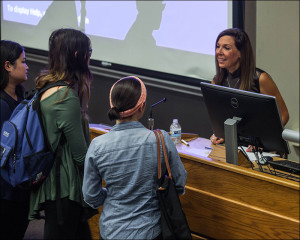 Davis oversees FleishmanHillard's fast-growing network of 18 offices in 10 countries throughout the Asia Pacific region. During her visit to the Missouri School of Journalism, Davis sat in on MOJO Ad presentations and shared words of wisdom and advice with a small group of public relations students in a Q&A session.
A key takeaway for senior strategic communication student Hannah Franz was how public relations can influence and shape world events and activities.
"She really emphasized how modern PR efforts have the power to create social change, and how we as professionals can harness this power to reach our audience in meaningful and lasting ways," Franz said.
In addition to Franz, those participating in the Q&A with Davis were Katie Anderson, Yitan "Chris" Gu, Lauren Hasse, Matthew Hirsh, Avenly Jones, Maren Wilburn and Hailey Yeakle.
FleishmanHillard has recognized Davis for her role in establishing the firm's Global China Practice, which offers an exchange program to Mandarin-speaking graduates from the West. Ultimately these individuals are transferred to open opportunities at a FleishmanHillard office in the company's Greater China operations.
Davis has been awarded The Holmes Report's "Individual Achievement Award." In 2014, Davis was voted as one of "Asia's Most Admired Agency Leaders," and made her debut appearance on PRWeek's Power List.
Prominent industry publications and trade journals have recognized Davis for her work in the field of international public relations, including recognition as "Global Women's Champion" by National Association for Female Executives in 2013.
Updated: September 10, 2020
Related Stories
Expand All
Collapse All
---