Students and Recruiters Connect at Annual Strategic Communication Career Fair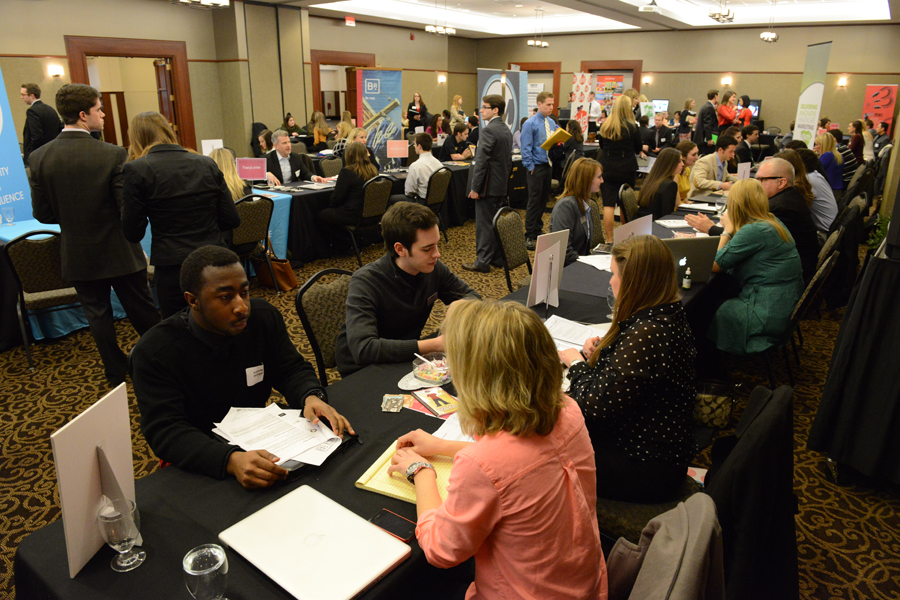 A Record 42 Companies Look to the Missouri School of Journalism for Talent and Expertise
By Marissa Ferri
Public Relations Account Executive
MOJO Ad
Columbia, Mo. (Feb. 27, 2013) — A record number of 42 companies interviewed more than 300 students for internships and full-time job opportunities at this year's Strategic Communication Career Fair. The event was held on Thursday, Feb. 14, at the Reynolds Alumni Center on the University of Missouri campus.
The MOJO Ad public relations team plans this career fair for students enrolled in the strategic communication emphasis area at the Missouri School of Journalism. MOJO Ad is the premier student-staffed professional-services advertising agency at MU, now in its sixth year of planning and managing this event.
This year's theme on "finding your perfect match" complemented the Valentine's Day focus. Candy favors and heart-shaped décor in shades of red decorated the tables, and the motifs were used in the promotional materials. Many attendees referred to the interviews as "speed dating," from speaking with multiple agencies in hopes of making long-term connections.
Twenty-six of the 42 companies at the Career Fair were returning recruiters, while 16 attended for the first time. Recruiter Jennifer Karns from Barkley, an independent advertising agency in Kansas City, noted that all the students were well prepared and eager to learn. Senior talent manager Farrah McGuire at VML talked about her past experiences with the event as a returning recruiter.
"VML loves attending the MU Strategic Communication Career Fair every year because of the tremendous talent coming out of the program," McGuire said. The award-winning agency is ranked as one of the top digital agencies in the world and most recently won 11 merit awards in the HOW Magazine Interactive Design Competition.
After a morning of back-to-back interviews with students, recruiters sat down for a luncheon, where they heard MOJO Ad students present the "State of the Next YAYA" report. MOJO Ad specializes in the youth and young adult market and shared their insights on this age group as part of the presentation.
"One thing I really liked this year was the new presentation of material tied to the younger YAYA's – the 13 to 17-year-old market," said Beth Ward, senior vice president and central regional recruiter at Fleishman-Hillard. "It was a great opportunity to showcase some facts, figures and opportunities that tied to a different demographic than we've heard from in the past."
This was Ward's fourth time attending the career fair with the global public relations agency Fleishman-Hillard. The firm has been named "Best Large Agency of the Year" by PRWeek and was recently recognized by Advertising Age as a "standout" agency – the only major PR firm to gain the honor this year. Their table was not short of interviews as the afternoon attracted more students to the event.
Strategic communication alumni often have the opportunity to return on behalf of their companies as recruiters. Media associate Dipika Chaudhuri, BJ '10, attended to recruit for Starcom MediaVest Group from its headquarters in Chicago. Starcom is one of the largest brand communications agencies in its industry with more than 110 offices in 67 different countries.
"I was so impressed with how smoothly everything ran and even more impressed with all the students," said Chaudhuri. "We got to talk to some great candidates, and I would love to attend the fair again in the future."
Strategic Communication Career Fair 2013 Recruiter List

3 Interactive / AdKarma

Barkley

Bernstein-Rein

Boxing Clever

Carmichael Lynch Spong

Crain Communications

Creatives on Call

Egg Strategy

Empower MediaMarketing

evetos

Fleishman Hillard

Hoffman Lewis

Insight Global

Intouch Solutions

Jostens

Leo Burnett

The Marketing Arm

Meers Advertising

Momentum

Moosylvania

Now What!

O'Malley Hansen Communications

PlattForm Advertising

The Richards Group

The Rocket Group & Jeff City START

RIVET

Starcom MediaVest Group

Stephens College Master's of Strategic Leadership

Sullivan Higdon & Sink

The Switch

True Media

University of Missouri Crosby MBA Program

University of Missouri Publications & Alumni Communications

VCU Brandcenter

Veterans United

VML

Walsworth Publishing
Recruiters and students attended the annual "Meet & Greet" event the evening before the career fair, where both parties mingled over desserts. Barbara Ifshin, associate professor and director of account management and planning for MOJO Ad, shared about the strategic communication emphasis area.
"Meet & Greet really showed me the value of being in the journalism school and the opportunity it gives us to network," senior Vince Tacchi said. "It was great to connect with recruiters on a personal level in a very professional environment."
In preparation for the career fair, MOJO Ad hosted four workshops where professionals in the industry covered a variety of skills to coach students. These focused on creative techniques, networking and resume building. The four workshops included:
Branding Yourself: Students gained advice from Ross Snodgrass, BJ '87. A creative director at The Integer Group in Denver, he taught students how to become more marketable with companies on their resume and in personal interviews.
Resume Panel: Agency professionals gave first-hand tips on perfecting a resume and how to avoid making simple mistakes. Students then sat down with recruiters individually to have their own resume reviewed and critiqued.
Networking: Tony Richards, founder and senior partner of a brand-consulting agency Clear Vision Development Group in Columbia, prepared students on how to interact with recruiters and network at future events.
Creative Portfolio Review: Students interested in design and art direction had the opportunity to sit down with creative experts and review their work. Reviewers included Chief Creative Officer Brian Brooker from Bernstein Rein in Kansas City, creative recruiter Robin Marco from TracyLocke in Dallas and copywriter Jake Houska, BJ '10, at Moosylvania in St. Louis.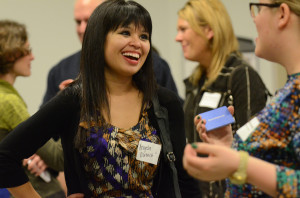 To help promote the events surrounding the Career Fair, the social media team from MOJO Ad provided a constant stream of social media updates. Live tweets from @MUCareerFair were posted during each workshop and shared continuously throughout the day of the career fair. The team also created several online elements on the MOJO Ad website, such as an interactive map of recruiters' locations, where students had easy access to company profiles and event information. Recruiters also shared their experiences from the events on their personal social media pages.
"Spent quality time engaging with strat comm. Students from the University of Missouri last week! Impressive group of students…I think I will have the majority of my intern and entry-level roles filled! Go Mizzou," said talent acquisition manager Dalina Tobar-Rottman at Empower MediaMarketing on her LinkedIn page. A repeat attendee to the career fair, Empower is one of the one of the largest independent media agencies in the country specializing in strategic marketing communications, digital development, and media planning and buying.
The student-staffed public relations team of MOJO Ad began planning for the career fair early last fall. Graduate teaching assistant Katie Artemas, career fair and public relations manager, led the planning of the event with public relations account executives Sam Presperin, Susan Visscher and Marissa Ferri. The students have been contacting recruiters since September to ensure good attendance at the event.
"We know our work has paid off when we see strategic communication students receiving job and internship positions with these companies," Artemas said. "I hope to see the career fair continue to grow as recruiters see success and value in hiring graduates of our program."
Updated: November 18, 2020
Related Stories
Expand All
Collapse All
---