Strategic Communication Career Fair Provides Students Job, Internship Opportunities
Columbia, Mo. (March 13, 2009) — Resumes and portfolios in hand, more than 200 students buzzed around the Missouri School of Journalism's 2009 Strategic Communication Career Fair in February. Recruiters from more than 20 companies and organizations visited with interested applicants in Stotler Lounge in Memorial Union on the University of Missouri campus, hoping to hire some of the School's best and brightest students.
And recruiters at the career fair were certainly looking for interns and new employees. Danielle Hurtt, BJ '03, visited the University as a representative from Fleishman-Hillard's St. Louis office. Hurtt said the company was looking for interns for its summer program. Internships were available for public relations, public affairs, marketing, digital communications and design.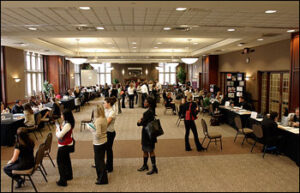 "I was very pleased by the interest in our internship program," she said.
Hurtt said she was impressed that the majority of students she interviewed had researched Fleishman-Hillard's program before attending the fair.
"We are looking for candidates with solid digital, newsroom and PR skills. Most of the students I talked with demonstrated those qualities." Hurtt added.
Another recruiter, a New York City company called Yext (Alpha 411), needs 50 new employees to start as entry-level sales associates this summer. Brian Distelburger, Yext's president, had already hired two students by noon, with hopes of hiring a minimum of eight more by the end of the day.
Sarah Schultz, who will graduate in May, was hoping her career fair interviews would yield her another position. She interned at The Integer Group in Denver in summer 2008, after having interviewed with the company at last year's career fair. Schultz said seeing recruiters who are just a few years out of school helps her believe she will be able to find a job, too.
MOJO Ad students, under the direction of Barbara Ifshin, an assistant professor and MOJO Ad's director of account management and planning, worked with Phousavanh Sengsavanh, assistant director of career services, to prepare students for these interviews. Three workshops were held leading up to the career fair. Ross Snodgrass, creative director at Integer Denver, gave an impassioned presentation on how to crack the job-hunting code by "branding yourself," helping students better understand how to separate their portfolio and resume from other applicants. Associate Professor Cynthia Frisby hosted a resume-writing workshop to teach students how to amp up their resumes and tailor them to potential employers. Adjunct Professor Stephanie Padgett's networking workshop provided tips and tricks on how to effectively network and use resources to help break the employment barrier. MOJO Ad is a student-staffed agency that specializes in the youth and young adult market (YAYA).
Companies at the fair included:
Adamson, St. Louis, Mo.
arc worldwide, Chicago
Cannonball, St. Louis
Crispin Porter + Bogusky, Boulder, Colo.
Empower MediaMarketing, Cincinnati
Fleishman Hillard, St. Louis
The Integer Group, Denver
Leo Burnett, Chicago
The Marketing Arm, Dallas
Miami Ad School, Minneapolis, Minn.
Missouri School of Journalism Five-Year Bachelor's/Master's Program
Momentum, St. Louis
Moosylvania Marketing, St. Louis
MU Publications, Columbia, Mo.
The Richards Group, Dallas, Texas
Rodgers/Townsend, St. Louis
Society for Marketing Professional Services, Alexandria, Va.
True Media, Columbia, Mo.
University of Missouri Crosby MBA Program, Columbia, Mo.
U.S. Marine Corps Marine Officer Program, Springfield, Mo.
VML, Kansas City, Mo.
Yext (Alpha 411), New York City
Zillner Marketing Communications, Lenexa, Kan.
Updated: December 1, 2020
Related Stories
Expand All
Collapse All
---