Record Number of Recruiters Look to Hire Missouri Journalism Talent
Almost 500 Students and Company Representatives in Attendance at the 2014 Strategic Communication Career Fair
By Katelyn Morris
Public Relations Account Executive
MOJO Ad
Columbia, Mo. (April 4, 2014) — The recent Strategic Communication Career Fair was the largest in its history, attracting 44 recruiters from advertising and public relations agencies as well as other organizations around the world.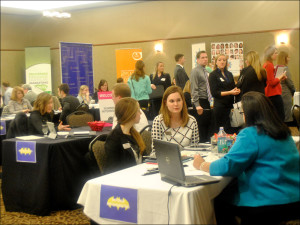 "The 2014 Mizzou career fair was like a trip to Disney World without all the costumes," said Erika Udstuen, manager of creative resources at TracyLocke in Dallas. TracyLocke, in attendance for the second time this year, recruited for account management, account planning, public relations, media planning and buying, art direction, graphic design and copywriting positions.
Many of the agencies in attendance on Feb. 13 currently employ Missouri School of Journalism alumni. Among those returning to network with and recruit top talent for jobs and internships were Katie Artemas, BJ '12, and Taylor Burch, BJ '13, from Starcom MediaVest Group, Chicago; Connor Cole, BJ '10, FleishmanHillard, St. Louis; and Dan James, BJ '12, The Integer Group, Chicago.
Recruiters had pre-fair opportunities to visit informally with students, including at a dinner and an informal meet-and-greet reception. They also attended a presentation of "Go: The 2013 State of the YAYA Report" given by members of MOJO Ad during lunch the day of the career fair.
"We had an excellent time chatting with everyone getting ready to graduate, reconnecting with fellow St. Louis agencies the night before over Mizzou-renowned Shakespeare's pizza, and the accommodations were awesome," said Kelly Currier, human resources specialist from Group 360 Worldwide in St. Louis. "The career fair planning team did a wonderful job."
Strategic communication students take foundational courses in principles, research, writing and visual communication. Other courses build expertise in areas such as account management, public relations, social media/interactive, media buying and graphic design. Specialty courses are offered in numerous areas, including sports and entertainment promotion and how to start an agency.
Students in attendance feel they had valuable experiences with the recruiters.
"I met people from companies I have wanted to apply to for the past couple years, as well as learned about some companies for the first time," said Sarah Clancey, a senior pursuing a career in public relations after graduation. "It was a great chance to see what all is out there and how my degree can be applied in so many different ways."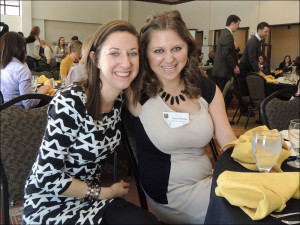 Senior Jared Lyons appreciated getting recruiters' perspective on how to enter the public relations field.
"In addition to critiques to my resume, it was great that they were looking to hire people like me," he said.
The annual event is planned and executed by members of MOJO Ad, the premier, student-staffed professional services ad agency at the School. Jamie Flink, assistant professor and director of account management and planning for MOJO Ad, praised the team's hard work.
"The staff did an amazing job of meeting the needs of both the recruiters and students," Flink said. "It is a tremendous responsibility to plan and execute an event of this caliber for nearly 500 people. The response was overwhelmingly positive."
The 2015 Strategic Communication Career Fair will be held on Feb. 12. For more information, visit MOJO Ad.
2014 Strategic Communication Career Fair Recruiters
AdKarma
Barkley/Crossroads
Bernstein-Rein
Boxing Clever
Creatives On Call
deep group
Division-D
DraftFCB
Egg Strategy
Empower MediaMarketing
FleishmanHillard
Front Page Digital
Group 360 Worldwide
HLK
H&L Partners
Insight Global
Intouch Solutions
Institute of Food Technologists
Johnny Lightning Strikes Again
Leo Burnett
Manifest
Momentum
Moosylvania
Muller Bressler Brown
MU Journalism Abroad
New Honor Society
Osborn Barr
Ovative/Group
PlattForm Advertising
Rodgers Townsend
Starcom MediaVest Group
Sullivan Higdon & Sink
Switch
The Integer Group
The Marketing Arm
The Resource Group
The Richards Group
TracyLocke
Trozzolo Communications Group
True Media
MU Publications
Veterans United
VML
Walsworth Publishing
Updated: July 23, 2020
Related Stories
Expand All
Collapse All
---