Career Fair Attracts Prospective Employers from Coast to Coast
Columbia, Mo. (Oct. 30, 2006) — Missouri Journalism students had the opportunity to rub shoulders, visit and interview with recruiters from 16 media organizations from across the United States during the Missouri School of Journalism's sixth-annual Fall Media Career and Internship Fair, which took place Oct. 18-19.
In addition to a day-long open interview session in Memorial Union, students had several opportunities to network with recruiters from The Boston Globe, ESPN, The Associated Press, theSt. Louis Post-Dispatch, Fleishman Hillard and other leading journalism, public relations and advertising organizations. Students mingled with recruiters at the Newspaper Fair Reception, participated in an informal question-and-answer forum on journalism diversity and attended a luncheon discussion with faculty members.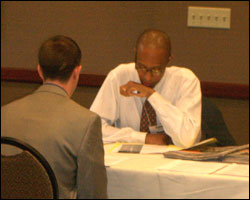 Isabelle Roughol, a junior newspaper journalism major and first-time fair participant, said she hopes to come away from this year's Career Fair with an internship at a daily newspaper, preferably one on the East Coast.
"I want to give out my card, my resume and my clips to as many people as I can," Roughol said.
At the reception the night before the fair, she said her strategy for handling the interviews would be simple.
"I'm going to be at the fair before it opens to stand in line to show that I am really interested," she said.
Magazine journalism senior Katie Spearing is one of many students who has experienced the value of previous fairs. At the 2005 fair, Spearing picked up a card from the editor of Kansas City Homes and Gardens. She e-mailed the editor after the fair and ended up with an internship.
Now that she's preparing to graduate, Spearing hopes to use the Career Fair to find a full-time job. Ideally, she'd like to cover arts and entertainment for a newspaper or magazine.
The Career Fair helps students understand the current state of the job market, Spearing said.
"You can think, 'I'd like to work for this kind of publication or that kind of publication,' but going to a Career Fair lets you know what kinds of jobs are really out there," Spearing said.
Spearing also offered some advice to younger students.
"Don't be afraid to explore, to start early," she said. "The more time you give yourself to explore, the better. It's never too soon to start."
Recruiters are attracted to the School's Career Fair – and its students – for numerous reasons.
Calvin Lawrence, MA '82, the national editor of Newsday on Long Island, N.Y., was a first-time recruiter at this year's fair. He said a conversation with Phou Sengsavanh, the School's assistant director of career services, at this summer's meeting of the National Association of Black Journalists, led to his presence at the fair.
"I complained to her that we don't get any MU interns at Newsday," Lawrence said. "She challenged me to come get some. So, I'm up to the challenge."
The trip is also a personal mission of discovery, Lawrence said. With as much as the profession has changed since his graduation from Missouri, especially its new online focus, he said he wanted to return to campus to get a sense of how the School is preparing its students.
While some things are changing, Lawrence said, others are staying the same.
"It's a good school – bottom line," Lawrence said.
For other recruiters, the School's Career Fair is a perennial event. Cynthia Todd, the director of newsroom recruitment for the St. Louis Post-Dispatch, said Missouri's reputation as one of the better journalism schools in the country keeps her coming back.
"As our interns, your students just show that they can handle themselves fairly well," Todd said.
Charlie Ball, the intern adviser at The Boston Globe and a long-time attendee of the fair, said Missouri Journalism students make good interns because of the professional training they receive and the skills they develop in the newsroom of the Columbia Missourian, a community newspaper that also functions as a working laboratory.
"They've all been well trained, and we want to support a school like Missouri and give their students the chance to apply to and know about our program," Ball said.
Updated: April 28, 2020
Related Stories
Expand All
Collapse All
---