Strategic Communication Career Fair Attracts a Record 45 Companies
Students' Extensive Preparation Impresses Recruiters
By Tori Dremonas
Public Relations Account Executive
MOJO Ad
Columbia, Mo. (March 5, 2015) — Some of the world's largest multinational agencies were among the record 45 companies that participated in the Strategic Communication Career Fair on Feb. 12 at the Reynolds Alumni Center on the University of Missouri campus.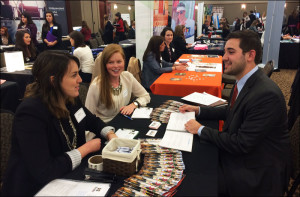 This was the eighth year of the career fair, which was hosted by the Missouri School of Journalism, planned and executed by students from the MOJO Ad public relations team. MOJO Ad is the premier student-staffed professional-services advertising agency in the country. It works with national companies to create innovative campaigns to reach the ultra-savvy 18-24 year-old youth and young adult (YAYA) market.
The Marketing Arm agency was one of 31 returnees to the Career Fair.
"We're increasingly impressed each time," said Nina Rayburn, a senior account executive at the Dallas-based agency. "This year's students were as well prepared as ever. I have stars on quite a few resumes that our team is eager to recruit."
First-time attendee Brado Creative Insight commended the organizers.
"It was expertly run," said Ali Greco, manager of strategic planning at St. Louis-based Brado. "The Mojo students took great care of the recruiters, from welcoming us with Shakespeare's pizza to making sure we had our after-lunch Starbucks fix."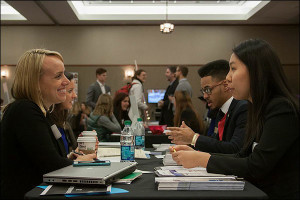 To help students prepare for the career fair, the public relations account executives of MOJO Ad planned and executed three events prior to the Career Fair including:
Creative Portfolio Workshop: Students interested in graphic design and art direction attended a workshop hosted by Brian Brooker, BJ '83, chief creative officer at Bernstein-Rein in Kansas City. Students also had the opportunity to sign up for a one-on-one meeting with Brooker to review their creative portfolios.
Resume Panel and Review Workshop: A panel of industry experts discussed how to craft the perfect resume and cover letter. Experts included Courtney Heger, BJ '11, assistant manager at Purina in St. Louis; Jon Franko, BJ '05, partner at Gorilla 76 in St. Louis; and Molly Rosenfeld, recruiter for Swirl in San Francisco. Students also signed up for individual resume reviews with them and 10 additional industry experts.
Meet & Greet: Recruiters and students networked at a reception the evening before the career fair.
These activities provided students with an extra boost of confidence before the career fair.
"Whenever I'm offered the chance to have a professional in my field look at my resume, I take the opportunity," said Erin Fuchsen, a strategic communication senior.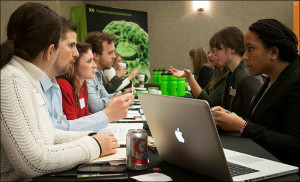 The students' extensive preparation made an impression on the recruiters.
"Being an alum, I already knew the caliber of the strat comm students, but I was blown away with the amount of talent and potential I encountered at the career fair," said Paanii Annan, BJ '14, assistant account executive at Leo Burnett in Chicago.
The MOJO Ad public relations team began planning for the career fair last September. Chelsie Veasman, a graduate teaching assistant and Mojo public relations manager, led the team of three public relations account executives: Tori Dremonas, Maria Martinez and Emilie Scott. Assistant Professor Jamie Flink directs MOJO Ad.
Veasman said she was especially pleased to hear recruiters say how impressed they were with the students they met at the career fair.
"Every year this event gets bigger and better," Veasman said. "It's such a thrill to welcome the new faces, student and recruiter, as well as catch up with the returning ones.
Updated: August 4, 2020
Related Stories
Expand All
Collapse All
---