Students, Recruiters Map Out Their Futures Together at Career Fair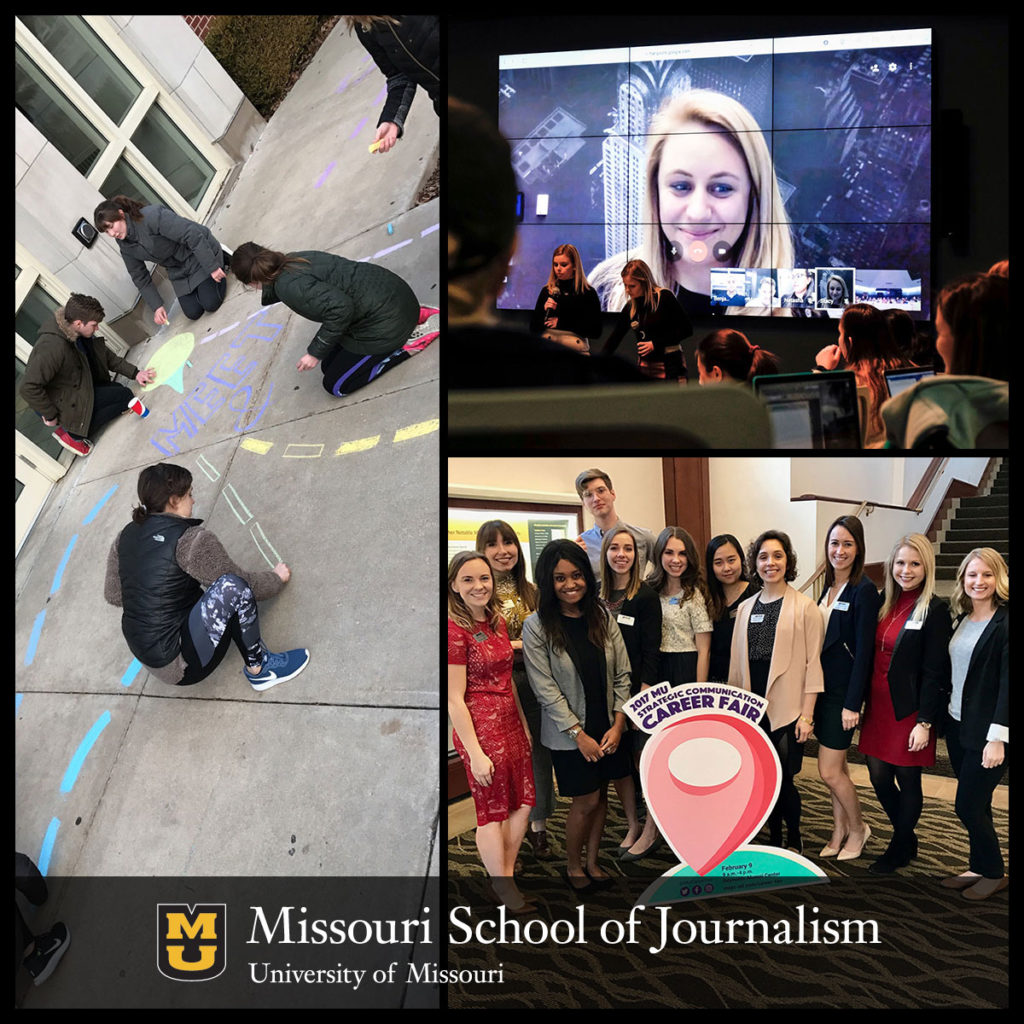 The Strategic Communication Career Fair Drew More than 115 Recruiters from 51 Companies
By Alexis Schaefer, Julia Brun, Miranda Lee and Marta Witko
Columbia, Mo. (Feb. 24, 2017) — The 10th annual Strategic Communication Career Fair – the largest in its history – drew more than 115 recruiters and 51 companies from around the country to connect more than 350 Missouri School of Journalism students to their dream jobs or internships.
The size of the event required using all space on the second floor of the Reynolds Alumni Center on the University of Missouri campus to accommodate the crowd. Both new and returning recruiters enjoyed getting to know strategic communication students at this expanded venue.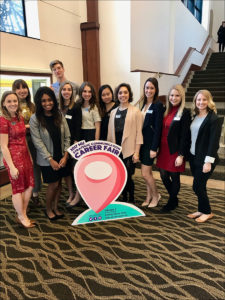 "General Motors is committed to finding the most talented students and bringing them to Detroit to be part of our winning communications team," said Dan Pierce, BJ '99, senior manager at General Motors in Detroit. "Attending the 2017 MU Strategic Communication Career Fair provided us with access to best and brightest students at one of the world's most prestigious journalism schools."
A presentation during the recruiter luncheon highlighted the School's hands-on learning approach known as the "Missouri Method." Recruiters were impressed with students' professional experience while still in the classroom.
"I was extremely impressed by the caliber of students that I met, as well as the strategic communication program itself. I have heard much about the program over the years and now, after a visit myself, I can truly appreciate how hard the students work and their on-the-job advertising experience throughout their senior year," said Amie Goettig, senior recruiter from Colle+McVoy and Exponent PR in Minneapolis. "I am eager to advocate for them. Students from Mizzou will certainly rise to the top of the pile of consideration for employment post-graduation."
First-time visitors included the largest exporter of California wines, E. and J. Gallo in Oklahoma City; experiential marketing agency Fusion Marketing in St. Louis; multinational corporation General Motors in Detroit; and public relations agency Zeno Group in New York. These joined career fair veterans, including public relations firms such as Carmichael Lynch Relate in Minneapolis and FleishmanHillard in St. Louis; traditional advertising agencies such as Cramer Krasselt in Chicago, VML in Kansas City, and Crispin Porter + Bogusky in Boulder, Colorado; and Fortune Global 500 company ExxonMobil in Dallas.
The evening before the career fair, students and recruiters connected at the Meet and Greet, a relaxed, casual networking event. More than 100 students gathered for the opportunity to ask recruiters questions ranging from company culture to their favorite after-work destination.
Danny Rosenberg, a junior studying strategic communication, found both events were great opportunities to network with agencies and practice his interviewing skills.
"The career fair might feel intimidating at first, but going to the Meet and Greet helped calm my nerves," he said. "The next day I confidently continued a conversation with a recruiter I met the night before."
MOJO Ad, the premier student-staffed, professional-services advertising agency within the Missouri School of Journalism, hosts the Career Fair each year. The staff activate an integrated campaign to support the event including a website, direct mail, collateral and social media. MOJO Ad public relations account executives plan and execute every detail from online registration forms to space planning.
"As students ourselves, we knew that this journey might be a nerve-wracking experience for our peers. Because we understood our audience, we thoughtfully mapped out each tactic and event to ensure everybody felt like a somebody," said Alexis Schaefer, MOJO Ad's public relations and career fair manager.
The 2017 Strategic Communication Career Fair was entirely planned, promoted and executed by MOJO Ad, the premier student-staffed professional-services advertising agency in the country specializing in the youth and young adult (YAYA) market. For more information about the Strategic Communication Career Fair, visit www.mojo-ad.com.
2017 Strategic Communication Career Fair Roster
Bernstein-Rein
Boxing Clever
Brado Creative Insight
Cannonball Advertising
Carmichael Lynch and Carmichael Lynch Relate
Chicago Portfolio School
CityArchRiver Foundation
Coegi
Colle + McVoy and Exponent PR
Common Ground Public Relations
Cramer-Krasselt
Crispin Porter + Bogusky
Design Ranch
Division-D
E. and J. Gallo Winery
Egg Strategy
ExxonMobil
FleishmanHillard
FTI Consulting
Fusion Marketing
General Motors
GlynnDevins
H&L Partners
HLK
Influence and Co.
Intouch Solutions
JES Holdings
The Marketing Arm
Meers Advertising
Momentum Worldwide
Moosylvania
MU Crosby MBA Program
New Honor Society
Noble Communications
Osborn Barr
PartnerComm
Pointworks Academy
The Richards Group
Second Street
Slingshot LLC
Starcom Mediavest Group
Sullivan Higdon and Sink
TPN
TracyLocke
Trozzolo Communications Group
True Media
Veterans United Home Loans
VML
We Are Alexander
Zeno Group
Updated: October 13, 2020
Related Stories
Expand All
Collapse All
---