Strategic Communication Career Fair Attracts Top National Agencies
MOJO Ad Public Relations Team Plans, Staffs and Executes the Entire Event
By Eimear Arkins
Columbia, Mo. (March 17, 2016) — Leading agencies from across the country attended the Strategic Communication Career Fair on Feb. 11 at the Reynolds Alumni Center on the University of Missouri campus.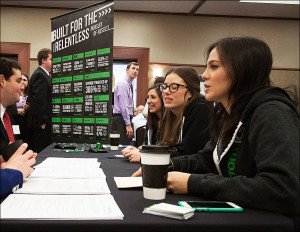 The Career Fair, now in its ninth year, is hosted by MOJO Ad, the premier student-staffed professional-services advertising agency in the country. MOJO Ad works with national companies to create innovative campaigns designed to reach the 18- to 24-year-old youth and young adult (YAYA) market. The MOJO Ad public relations team plans, staffs and executes the entire event, something that impresses recruiters.
"The Career Fair is beyond impressive," said Megan Scott, account executive at the Trozzolo Communications Group. "From the number of qualified students we talk to, to the amenities provided, the career fair is always the most fruitful trip we make during our intern recruiting months."
The event attracts top agencies from across the country each year, including Leo Burnett, Crispin Porter + Bogusky, FleishmanHillard, Spong PR, The Richards Group and VML. Performics, a global performance marketing agency based in Chicago was new to the lineup this year.
"We were very impressed with their questions about potential job opportunities at Performics after their graduation date," said Jami Melbourne, associate manager of people and development. "Thank you to MOJO Ad for sharing their amazing presentation on the YAYA market and for organizing a successful career fair."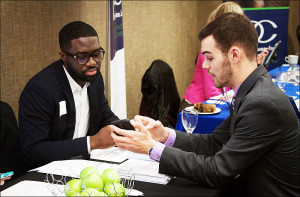 Approximately 350 strategic communication students attended the SC Career Fair and participated in industry-led preparation events. These included a resume and portfolio roundtable, individual resume and portfolio reviews, a LinkedIn workshop and an "Are You Ready" Q&A. The students' hard work and preparation paid off as they made a huge impression on recruiters.
"For five days leading up to the career fair, I analyzed agencies and sought opportunities to pitch myself to them in ways that would connect us far beyond what just appeared on my resume," said junior Clayton Conness. "The work paid off. Not only have I accepted a summer account services internship, but I also have lunch plans with two separate agencies over the next three months."
The Meet & Greet reception was held the night before the Strategic Communication Career Fair to give students an opportunity to interact informally with recruiters. Brightly-colored decorations and bowls of lighthearted icebreakers on every table encouraged conversation and laughter for almost two hours.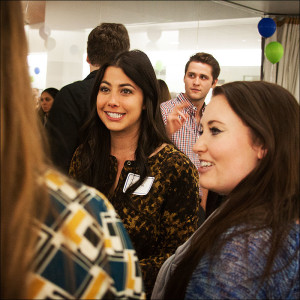 "The Meet & Greet reception is a great opportunity for students to meet recruiters in a relaxed setting," said Maria Martinez, public relations and career fair manager for MOJO Ad. "Keeping the decorations, conversations and atmosphere casual brings students and recruiters together to create a connection before the big day."
Many of the recruiters are alumni who studied strategic communication at the Missouri School of Journalism. They note the Career Fair allows them to return to their alma mater, reminisce on what the job search process was like for them and help pay it forward.
The MOJO Ad public relations account executives – Eimear Arkins, Jamie Ras, Kara Simon and Hailey Yeakle – began planning the Strategic Communication Career Fair in September 2015. They worked under the direction of Martinez and Jamie Flink, assistant professor and Career Fair director.
For more information about the Strategic Communication Career Fair and for a list of agencies that were in attendance visit the MOJO Ad website.
Updated: September 22, 2020
Related Stories
Expand All
Collapse All
---