2 Events Prepared Strategic Communication Students for Career Fair
Experts Shared Advice About Resumes, Portfolios and LinkedIn
By Eimear Arkins and Jamie Ras
Columbia, Mo. (March 1, 2016) — MOJO Ad recently hosted a series of preparatory events planned and executed by students, for students, in preparation for the 2016 Strategic Communication Career Fair. Almost 50 advertising and public relations companies participated in the Feb. 11 event at the Missouri School of Journalism.
The Resume and Portfolio Roundtable brought together industry professionals Scott Shade, associate creative director from Woodruff Sweitzer, and Kirby Cole, director of talent acquisition at Fleishman Hillard. They shared advice on how to structure an eye-catching resume and portfolio, what to include and what not to include and other tips that addressed students' questions.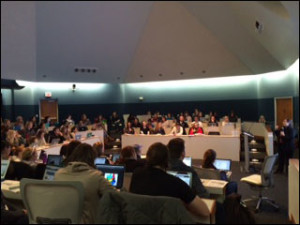 "It was really helpful speaking to industry professionals and getting an honest perspective," said Maddy Poletis, one of the students who attended the event. "I now feel confident about how I should present myself in order to stand out from the crowd."
The LinkedIn workshop, lead by Kathy Bernard, BJ '82, covered a variety of LinkedIn best practices. These included how to amp up your profile and how to reach out to recruiters and hiring companies via the networking platform. Creator of the breakthrough WiserU Career System, Bernard has helped thousands of students to establish their brand identity on LinkedIn. Bernard told the students that maximizing their LinkedIn presence can give them a 40-times-greater chance of landing a job.
"LinkedIn is an incredibly valuable tool in the job search process, but it can be intimidating," said Assistant Professor Jamie Flink, who directs the MOJO Ad students. "We want our students to know how to use it effectively."
The Resume and Portfolio Roundtable and LinkedIn workshop events were hosted by MOJO Ad, the premier student-staffed professional-services advertising agency in the country. The students work with national companies to create innovative campaigns designed to reach the 18- to 24-year-old Youth and Young Adult (YAYA) market. Both events were specifically tailored to students' needs and designed to equip them with the tools and resources they need to stand out and secure a job or internship at the Career Fair.
Additional information about the Strategic Communication Career Fair is available at the MOJO Ad website.
Updated: September 15, 2020
Related Stories
Expand All
Collapse All
---