Missouri School of Journalism students lead the Columbia Missourian's yearly Progress Awards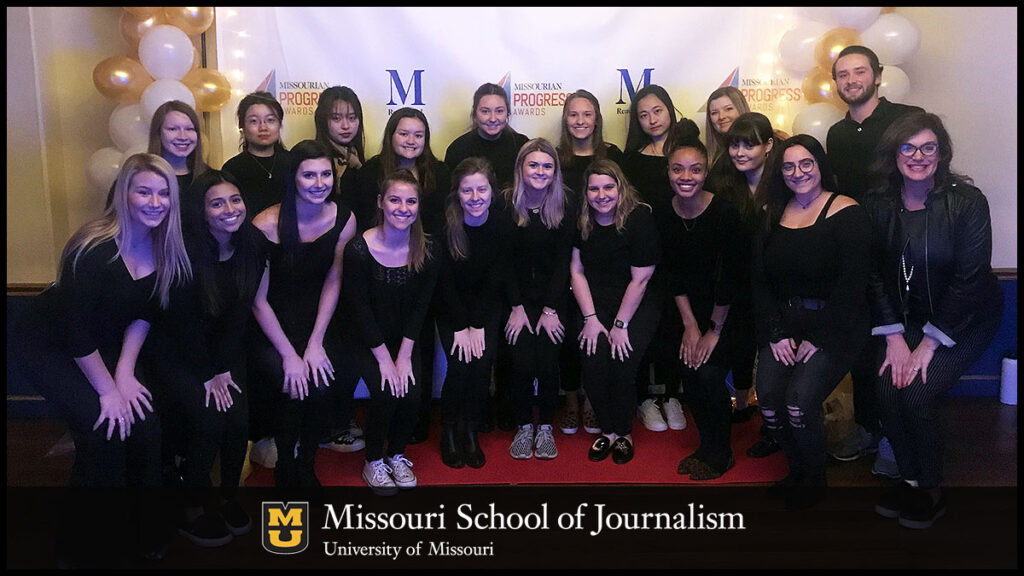 As part of a one-credit hour public relations techniques class with a focus on events and promotion, students gained hands-on training as they led the third annual Progress Awards on Tuesday, Dec. 3, 2019.
Event aims to recognize members of the community for their contributions to the city.
By Jerry Duggan
Columbia, Mo. (Jan. 27, 2020) — The Missouri School of Journalism's student-run events agency, Pri-Mo Events, gained hands-on training as they led the third annual Progress Awards on Tuesday, Dec. 3, 2019, at the Blue Note in downtown Columbia. The event, sponsored by the Columbia Missourian, aims to recognize members of the local community for their contributions to bettering Columbia and bringing about progress in the city.
This is the third year that Pri-Mo Events, which is operated through a one-credit hour public relations techniques class with a focus on events and promotion, has been asked to assist with planning the event. The students are involved with every aspect of the event. The are divided into teams focused on main floor design and decor, upstairs design and decor, sound stage and lights, and catering and silent auction. The course is taught by Melanie Forrest, an adjunct professor and School of Journalism engagement and outreach coordinator.
Senior Morgan Donnohue, who was on the main floor decor team, said her experience planning the event made it feel a lot more like the real world and less like a typical class.
"Professor Forrest really encouraged us to think of the event in a practical manner," Donnohue said. "(Forrest) doesn't use textbooks, and teaches the class in a conversational, hands-on manner and encourages us to think critically about how to strategically plan the event from the get-go."
The key to success, according to Forrest, is all groups working together to bounce ideas off each other while staying within the event budget. The theme for this year's event was "If you can dream it, you can do it" and featured clouds and sky decor. The event was catered by Room 38.
It was a full day of set-up and preparation the day of the event. Senior Ashley Cox, who was on the sound stage and lights team, stressed the importance of staying calm.
"It was really important for us to stay on schedule the day of the event," Cox said. "We got there early in the day, around 11 a.m., and had to work quickly to get everything in order before the guests started to arrive."
The evening included a social hour from 6–7 p.m., giving attendees a chance to interact with finalists for each category and reconnect with winners from previous years. Around 7 p.m., the crowd of approximately 300 gathered for the announcement of the winners in each category. After being informed they won, winners were told who nominated them and were able to hear what the nominator had to say about them. These statements, read aloud on stage, helped those in attendance really understand the impact of the winner's work. According to Forrest, this is one of the things that makes the event so special.
"Awards can sometimes feel like a popularity contest, but a lot of the winners of the Progress Awards are unsung heroes, so to speak," she said. "They do outstanding work in their community, but for whatever reason haven't been properly recognized until now. It's really special that we get it give them the recognition they deserve."
Forrest says this kind of event is a win-win for her students, as well as the larger community.
"Event planning is a skill that can really differentiate our students from other students out there, since a lot of strategic communication programs don't offer courses in event planning," she said. "Not everyone knows how to do it, and it's not as easy as it looks, but when an event is planned right, it is a really cool experience for everyone involved."
Students enrolled in the fall 2019 Pri-Mo Events class included Taylor Bellamy, Carly Berthiaume, Skylar Corby, Ashley Cox, Morgan Donnohue, Tanner Dorow, Jennifer Fowler, Alyson Garcia, Isabel Guariglia, Ryan Kielty, Hannah Moss, Amanda Nguyen, Morgan Obrist, Mier Pan, Maya Patel, Rebecca Pfeifauf, Xiangyu Wang, Caroline Watkins and Yuanyuan Zheng.
Updated: November 11, 2020
Related Stories
Expand All
Collapse All
---